JD Spinoza

JD Spinoza

JD enjoys teaching people how to use ZoomShift to save time spent on scheduling. He's curious, likes learning new things everyday and playing the guitar (although it's a work in progress).

Feb 16, 2021
5 Benefits That Restaurants Can Have from Video Marketing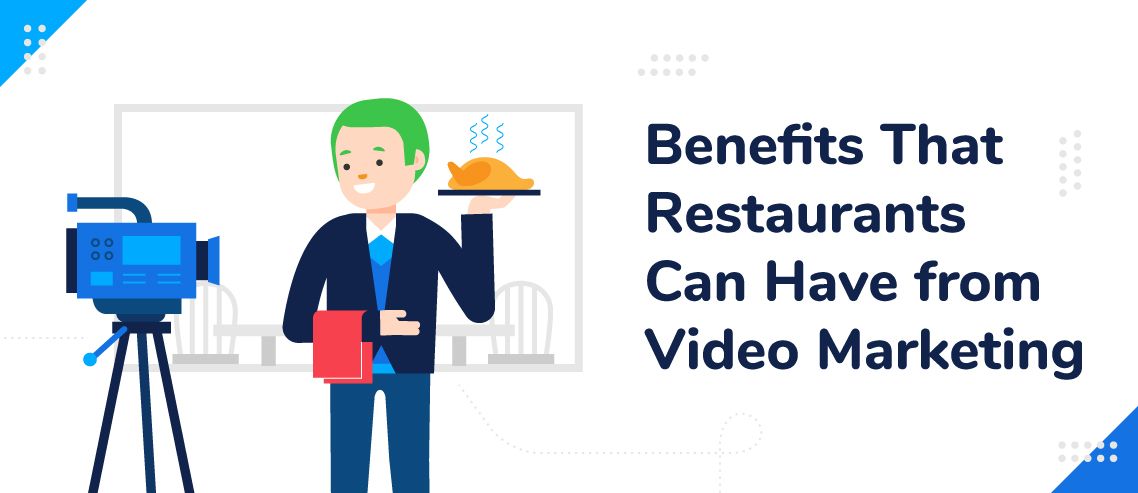 For some time now, the idea of producing videos and using them for marketing your brands has been really popular. Videos have taken a very important position in the strategies of digital marketing. With the help of good video marketing strategies, a lot of brands have been able to reach out to more audiences and boost their overall performance by huge margins. It is not only cost-efficient but really effective.
According to a survey by Brightcove study, 76% of all adults have agreed that they purchased a product only after watching a video that is made on it. Millennials also contribute massively, with at least 85% of them making purchases after watching a video.
So, if you run a restaurant, then restaurant video marketing can be an effective way to increase sales and profits in 2021. How? Let's discuss it today in this blog. Stay tuned!
Here are the top 5 benefits that restaurants can enjoy when they use video for marketing:
1. Videos Are More Attractive
In the restaurant marketing space, one of the difficult things to tackle is how you can connect with people. Videos are easily the best ways in which you can reach out to more people and attract them to your business. It is a tool that helps to reach out to countless people in a short time.
When you are advertising your brand in the digital space, the main objective is to grab their attention. When you create a video with nice sounds, lights, and camera work, it attracts people more than anything else. Therefore, as a result, your brand gains significant attention.
Using a 30-second to 2-minute video, you can provide a lot more information about the restaurant and menu than a regular blog. Showcase the drinks and foods you are serving to excite the viewers. Are you adding some new items to the list? Why not announce it via an engaging video and draw the attention of more customers?
Thus, videos are an effective way to attract more attention for better promotions. The majority of the people will agree that they find a video more interesting than traditional text.
2. Build Loyalty through Videos
Trust is a hard thing to earn. Especially if you are running a business, your entire foundation will depend on how much your customers trust you. It is one of the key ingredients to a successful business recipe. Even in the digital space, you have to work hard to gain this trust from the audience. When you are able to show the different USPs and features of your restaurant, people can see why a visit to the restaurant will be worth it.
People are more interested in visiting you when you give them a clear idea about the kind of business you have, the staff and the food. As a result, your viewers gain more confidence. It is a brilliant way to turn sceptical customers into loyal customers in the long run. An in-depth tour of the entire property is visually appealing and is something that everyone would want to see before heading to your restaurant.
So, more people can trust you and your business, which helps to build trust. The more loyal your customers are, the better it is for your restaurant business. That is how a video marketing strategy can impact the business.
3. Videos Reflect Your Business
Videos are a great medium to talk about your business and show the people different aspects of it. It also speaks for the kind of products you serve, the ambiance, professionalism, etc. As we already mentioned before, a 30-second to 2 mins video can speak volumes about your own restaurant. Hence, people gain confidence.
Show the details and highlights about your interiors, the kind of music played, the overall property, and any other special features. Just squeeze them into a video and launch it on your social media accounts. This will help you to hook thousands of potential customers who might be willing to visit your restaurant.
Videos have the power to leave a lasting impact and in-depth impression of your own business, which blogs or long texts cannot do. These are more engaging & visually appealing.
4. Videos Are an Excellent Way of Boosting SEO
Search Engine Optimization or SEO is one of the tools that can "make or break" a business. With the right SEO tools and marketing strategies, you can help the audience to learn more about your restaurant and encourage them to visit you. When people are searching for specific words and phrases, Google shows them the relevant results based on their content and value.
So, how can videos help you increase SEO rankings? When a visitor comes across your website and watches a video, Google analyses this as a positive sign for more engagement. The visitors are also spending much more time on your website, which leads to a significant rise in the SEO rankings in the Google engine.
5. Increasing Sales with the Help of Superb Videos
The major reason why you should start a video marketing campaign in 2021 is to increase your sales, right? Well, videos can surely make that happen. High quality, informative, and visually appealing videos hook customers to your brandy, and at least 50% of them shop for any particular product at the end of the day. In this case, they are going to visit the restaurant. In fact, why not show the people the exact location of your restaurant, its decor and coziness through a mind-boggling video?
Good and effective video making strategies are like assets that can take your business to a whole new height altogether. Undoubtedly the videos will be expensive to make and time-consuming. But, they are seriously worth the money you are going to spend. Videos can drive customers towards your business quickly.
Final Words
If pictures and infographics can double the sales of a business, then it goes without saying what videos can do. Are you still wondering what will be your next move in the digital marketing sector? Of course, videos will be the final stop. You can read about why videos are important for your restaurant business in this blog. Visit a good marketing company and ask them for help regarding it.
JD enjoys teaching people how to use ZoomShift to save time spent on scheduling. He's curious, likes learning new things everyday and playing the guitar (although it's a work in progress).