JD Spinoza

JD Spinoza

JD enjoys teaching people how to use ZoomShift to save time spent on scheduling. He's curious, likes learning new things everyday and playing the guitar (although it's a work in progress).

Jul 10, 2023
23 Time Management Tools for Your Small Business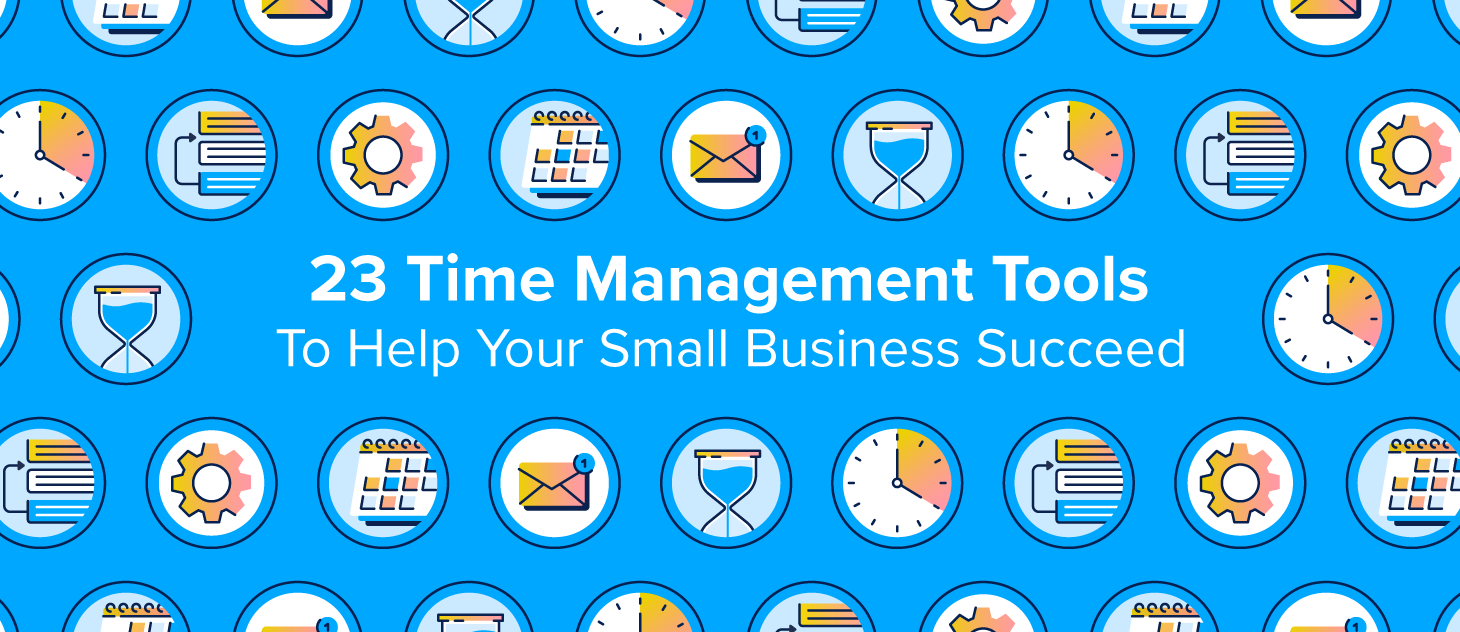 Time is one of your greatest assets as a small business owner, but it's also one of the most mismanaged. If time is money, as the old saying goes, mishandling your time doesn't just result in stress for you — it also costs your business money. And when every penny counts, that can have disastrous results for your business and your employees.
Whether you're looking to reduce your time on administrative tasks like scheduling and time tracking, keep everything organized for easy project management, speed up collaboration, or prioritize tasks, we've got the perfect time management tool for you below. 
Why time management matters for small businesses
Small business ownership is a significant time commitment, with 82% of small business owners reporting they work more than 40 hours a week. Some people thrive in this fast-paced environment, while others quickly become overwhelmed and lose sight of their goals and priorities.
Sometimes it's outside your control: We've all had days when we've come to the office with a plan only to have interruptions derail it. Other times it's self-inflicted — you look up from a task to find that something that should have taken you half an hour has taken over an hour. 
When people are crunched for time at work, bad things happen. They rush to get work done, which leads to mistakes that potentially damage your product or bottom line. They also multitask, which reduces workplace productivity by 27.5%.
To remain competitive and continue to grow your small business, whether it's a restaurant or a retail store, you need to manage your time wisely. Better time management:
Reduces

workplace stress

Boosts productivity

Increases focus

Improves decision-making skills
Fortunately, with the right tools, everyone can manage their time with relative ease. 
1. ZoomShift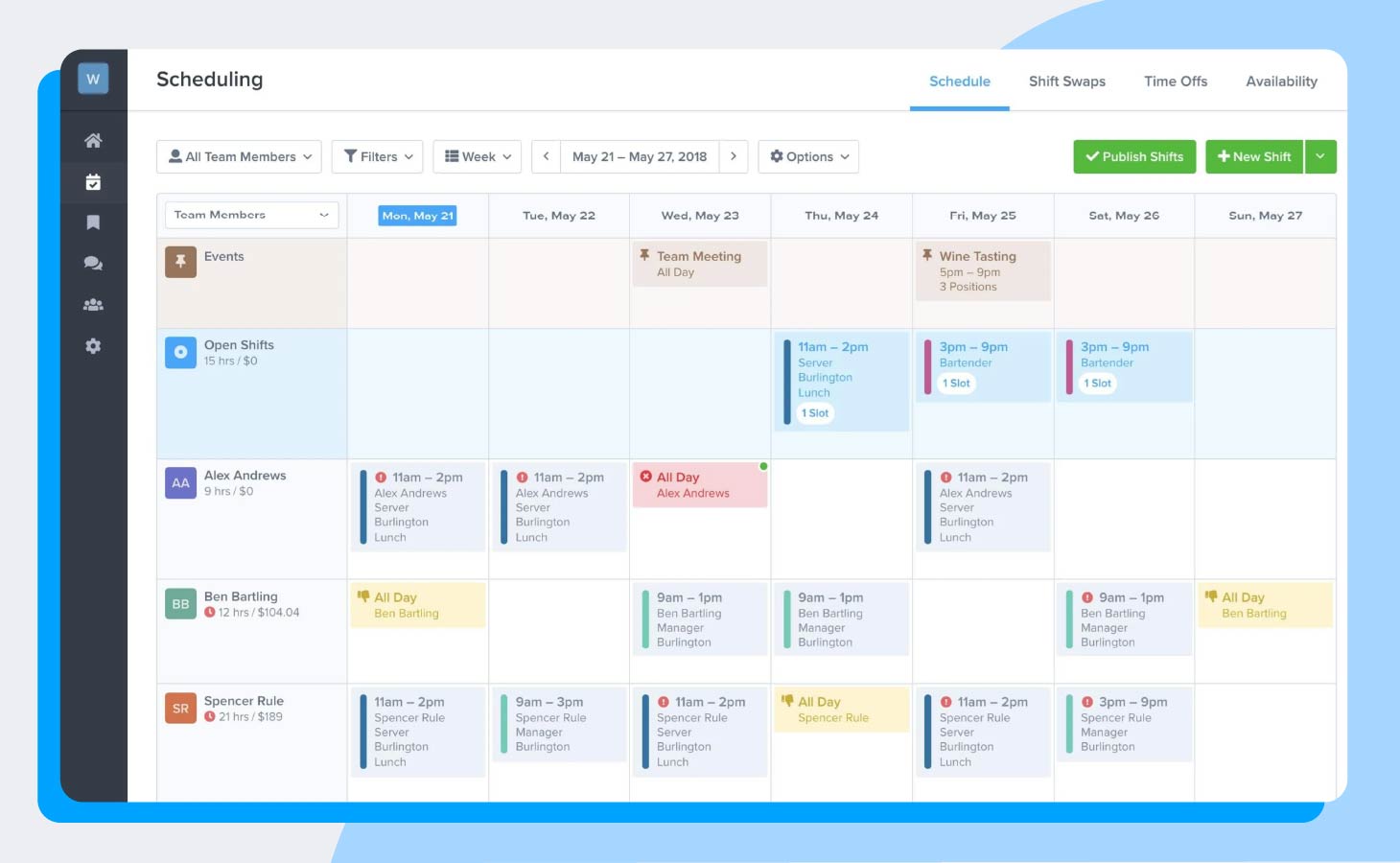 ZoomShift is a scheduling and time-tracking software program. It simplifies the scheduling and time-tracking process for you and your employees so everyone can focus more on doing their jobs and less on administrative tasks.
What makes it a powerful time management tool:
Utilize hourly scheduling templates and the drag-and-drop interface to schedule employees quickly

Communicate schedules with employees

Empower employees to swap shifts and claim open shifts

Control labor costs automatically by blocking overtime, early clock-ins, and more

Create payroll reports

Automate time off requests

Manage PTO balances

Log in from anywhere on the web or with the iOS and Android app
Pricing:
From $2/user/month

Free trial available for starter and premium versions
2. ProofHub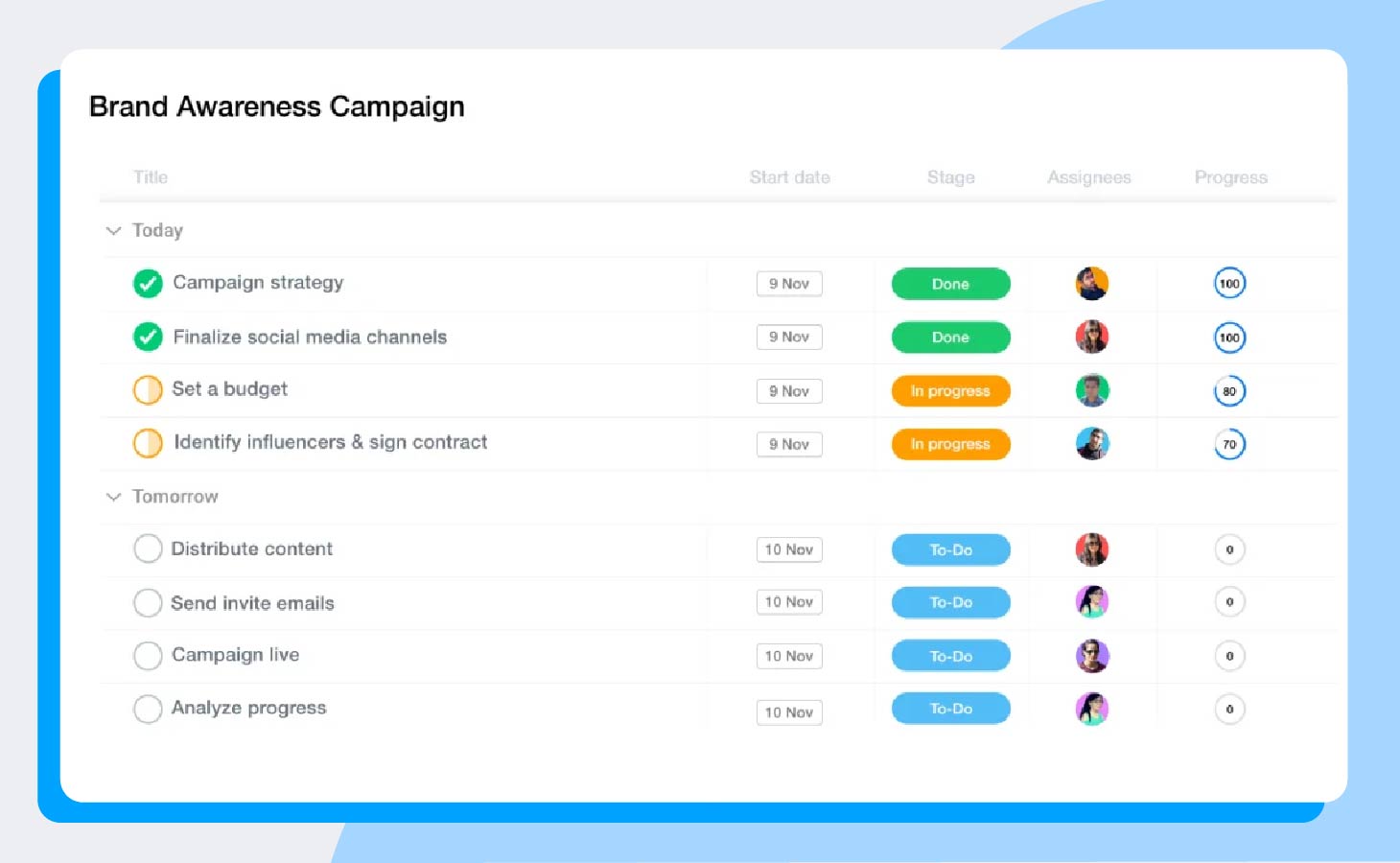 ProofHub is a task management, collaboration, and time management tool that combines several tools, reducing the time you and your team spend looking for files and switching between tools.
What makes it a powerful time management tool:
Organize project files

Assign tasks and track progress

Collaborate with proofing capabilities

Customize your workspace with white labeling

Track time spent on projects

Export timesheets for payroll and invoicing

Create meaningful time usage reports for projects or individuals
Pricing: 
Starts at $45/month for 40 projects

Free trial available
3. Harvest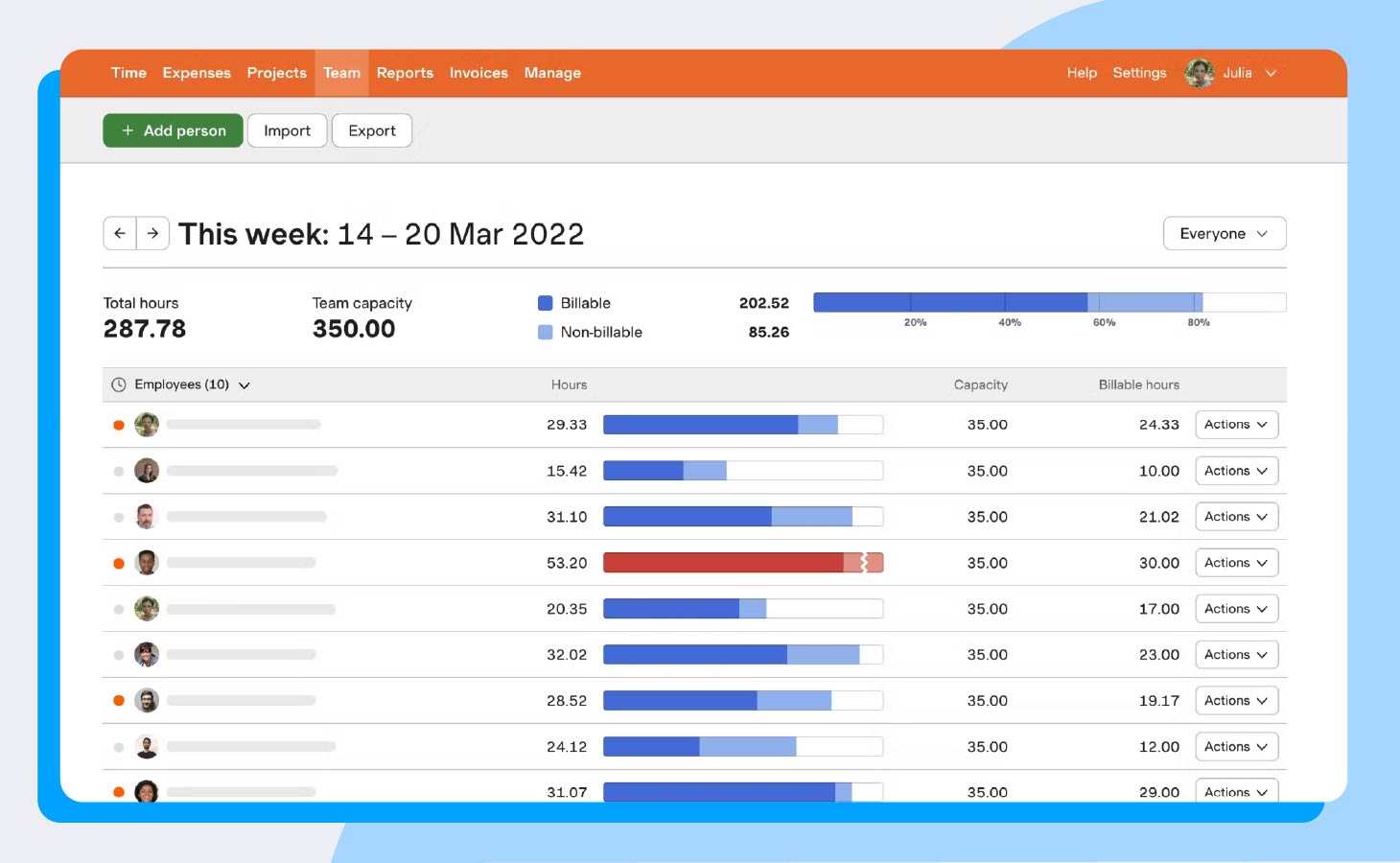 Harvest is a time-tracking software with additional reporting and invoicing capabilities. It simplifies time tracking and ties it directly to the billing process for easy payments and invoice creation.
What makes it a powerful time management tool:
Integrates with payment and budgeting tools you already use, like Stripe, PayPal, QuickBooks Online, and Xero

Set reminders and communicate them with the entire team

Analyze team utilization, internal costs, time spent on projects, and more

Export reports to other tools

Use time and expenses already entered to create invoices for clients

Allows employees to track hours from their browser, desktop, or mobile device
Pricing:
Starts at $10.80/user/month

Free 30-day trial available
4. Toggl Track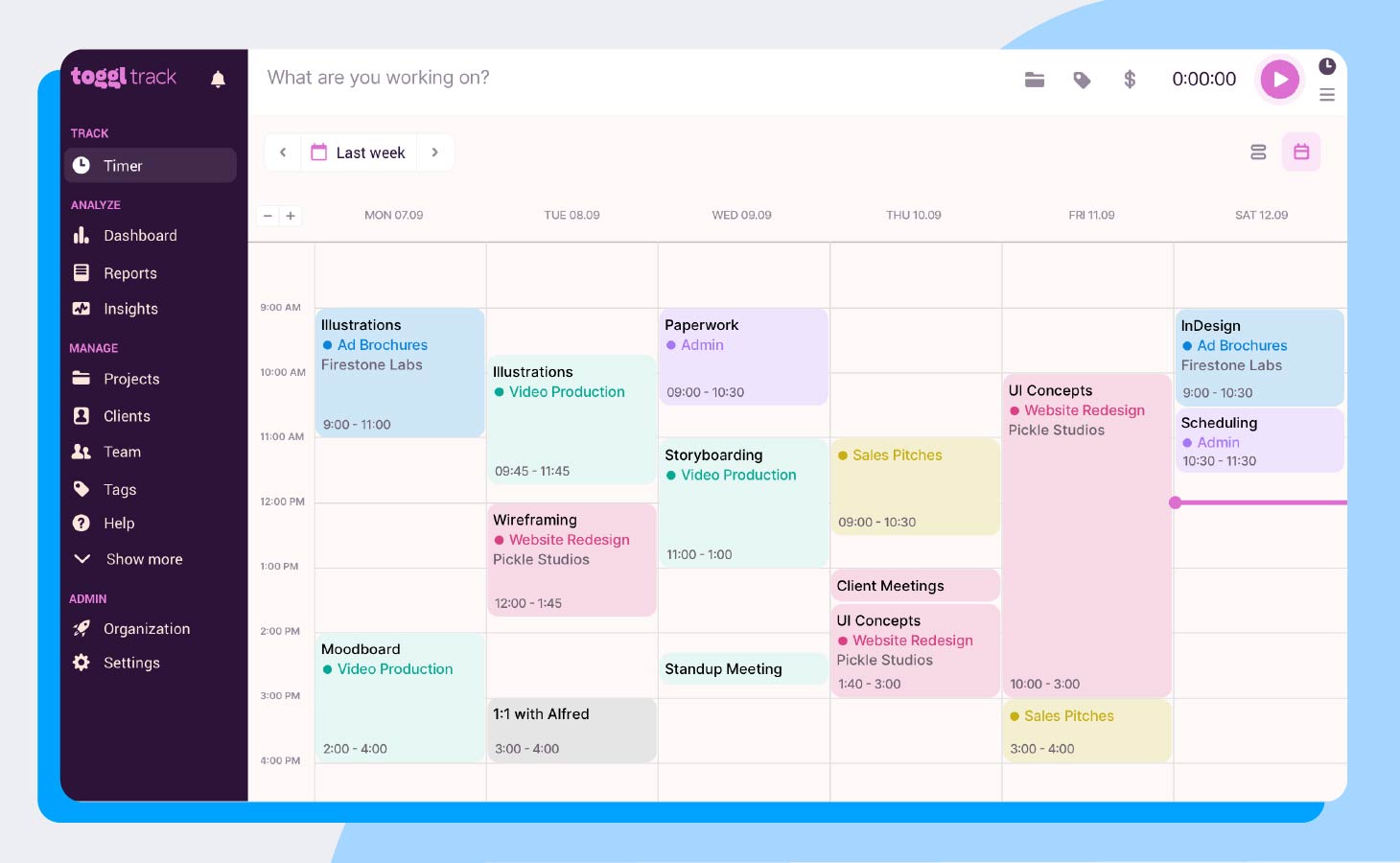 Toggl Track is an intuitive time management software that easily adds on to the tools you already use. You can also upgrade the software to include its project management and HR features.
What makes it a powerful time management tool:
Track time whether you're online or offline

Manage an unlimited number of projects

Integrates with more than 100 tools you already use, like Asana, Salesforce, and Zapier

Track billable hours, then easily use data to create invoices

Track labor costs, project hours, and budgets in real time

Communicate project progress to clients with reports

Export timesheets for payroll effortlessly

Automate reminders for team members to keep projects on track
Pricing:
Starts at $9/user/month

Free 30-day trial available
5. Hubstaff Time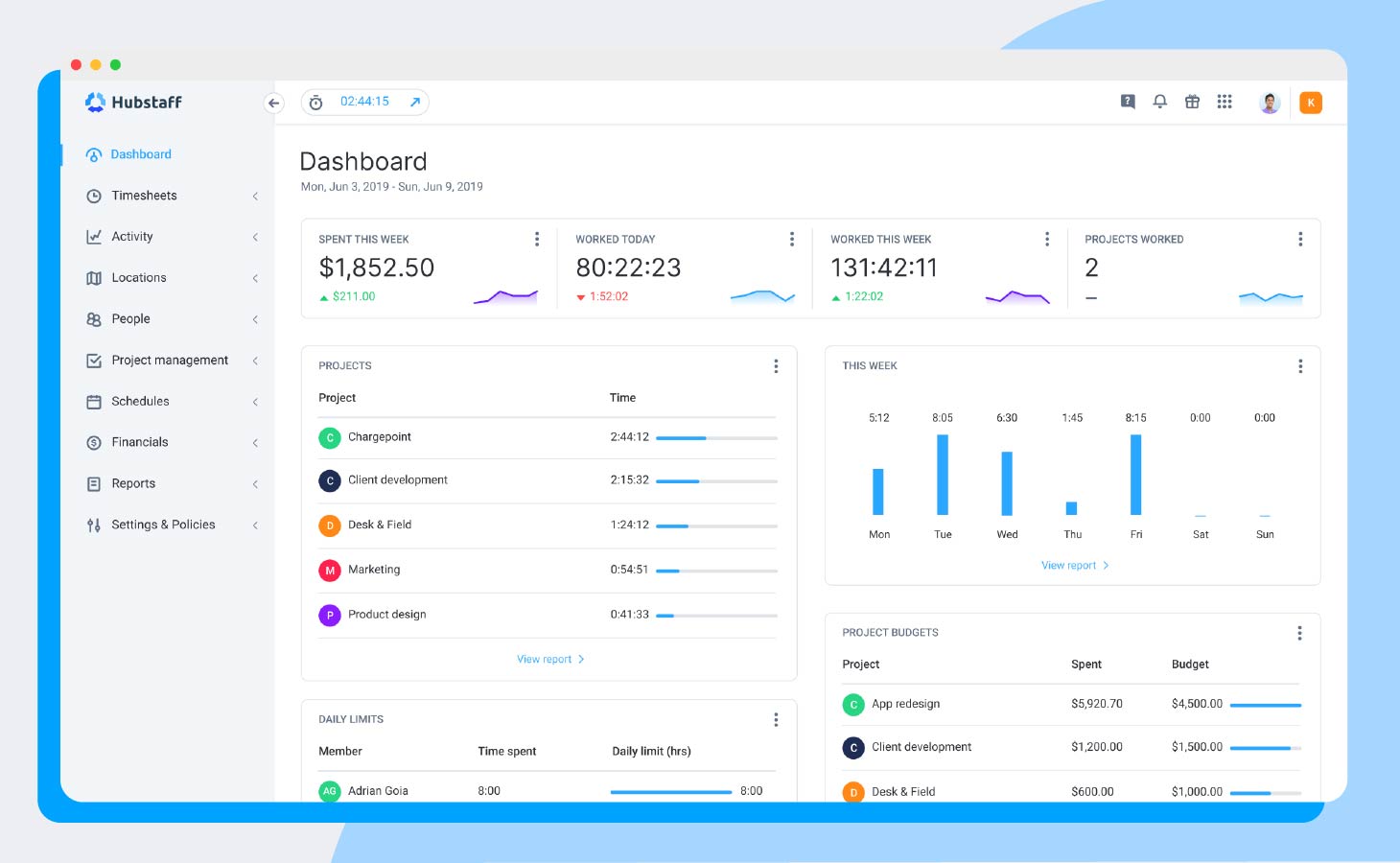 Hubstaff is a time-tracking software that helps you track all of your employees' time — not just the time they devote to projects. Upgrade your subscription to include employee monitoring, team management, or GPS location tracking capabilities.
What makes it a powerful time management tool:
Analyze time data to forecast budgets and track expenses accurately

Automate payroll to pay employees using their preferred platform

Track employee time from any device using the app or Google Chrome extension

Generate automated timesheets for easy payroll and reporting

Monitor keyboard and mouse activity

Track employee use of apps and websites
Pricing:
Starts at $5.83/user/month

Free 14-day trial available
6. Clockify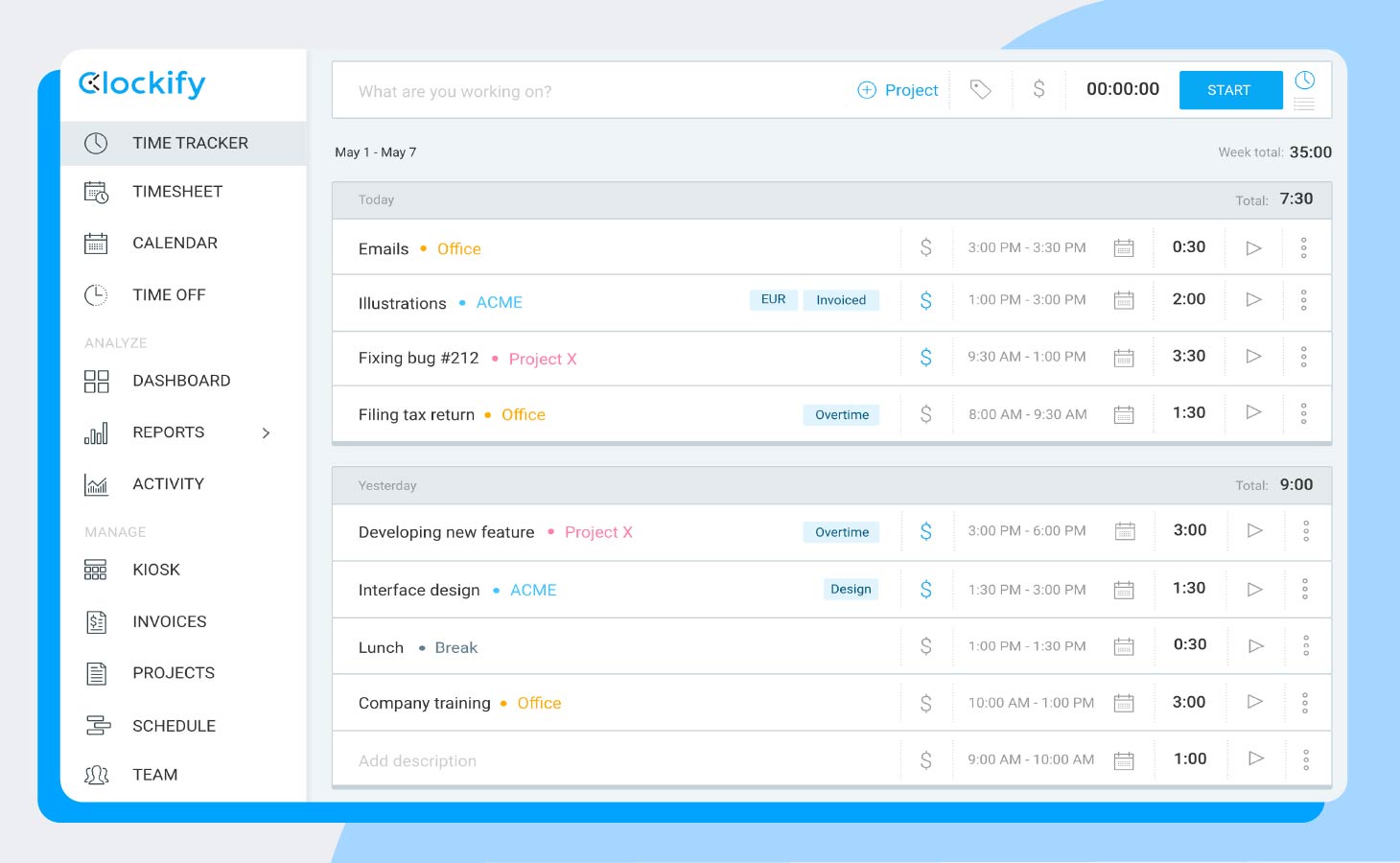 Clockify is a time-tracking web application for Edge, Chrome, and Firefox. Use it to track time and maximize productivity with insightful analytics into your individual, team, and business work habits. 
What makes it a powerful time management tool:
Clock in from any shared device

Track employee use of apps and websites 

Use a stopwatch or enter time manually

Export tracked time to see activity, costs, and profits

Forecast project costs

Track employee locations

Manage scheduling and time off requests

Create invoices based on time-tracking data

Use the calendar to

block time

for tasks
Pricing:
Starts at $3.99/user/month
7. Monday.com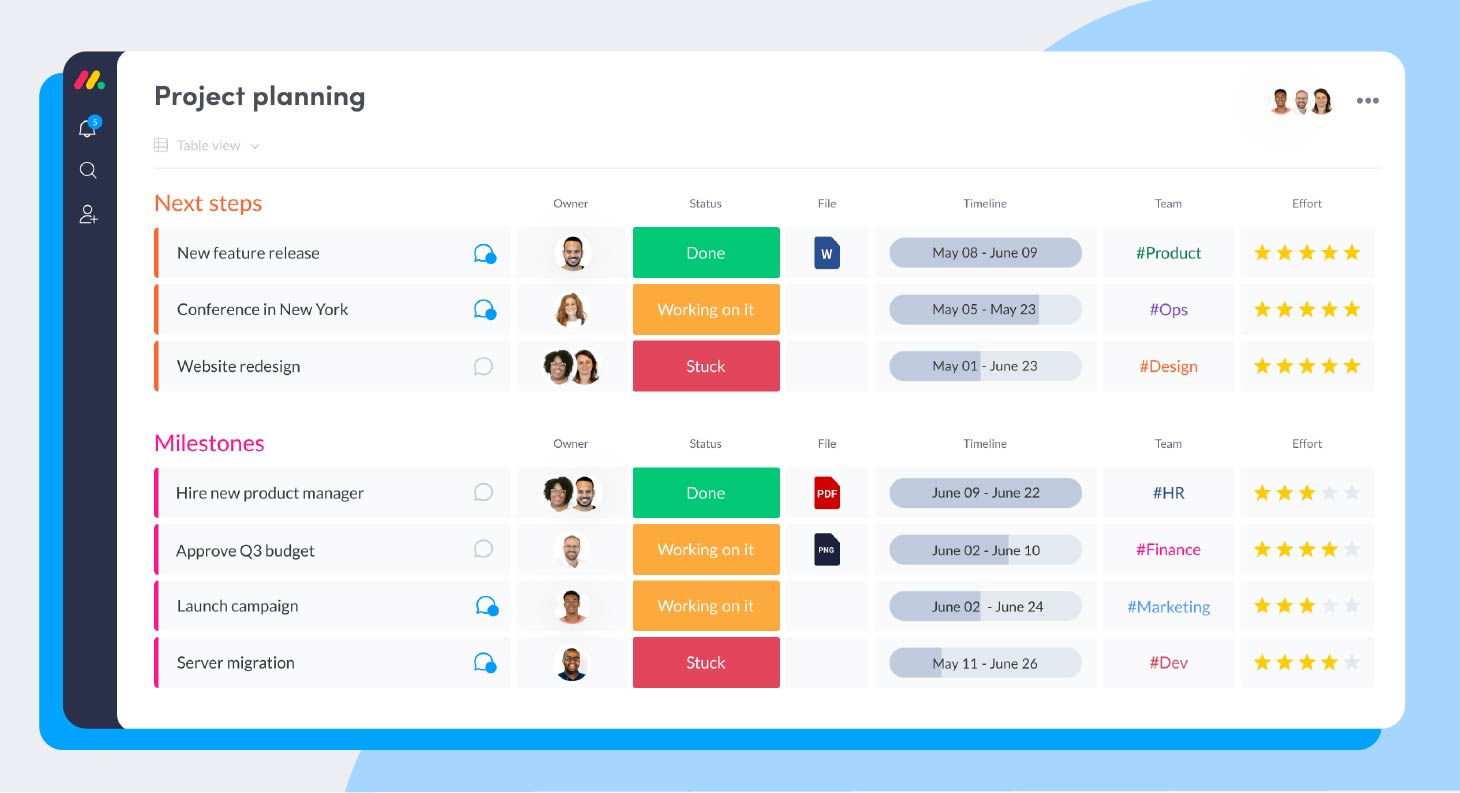 Monday.com is a cloud-based work operating system with time tracking, project management, task management, marketing, HR, and operations capabilities. Customize the workflow based on your needs to centralize all your tools in one place.
What makes it a powerful time management tool:
Automate repetitive tasks

Create flexible reports based on tasks, projects, or clients

Use the mobile app to track time from anywhere

Assign and prioritize tasks for team members

Integrates with tools like Google, Dropbox, Slack, and more
Pricing:
Starts at $8/user/month

Free 14-day trial available
8. Evernote Teams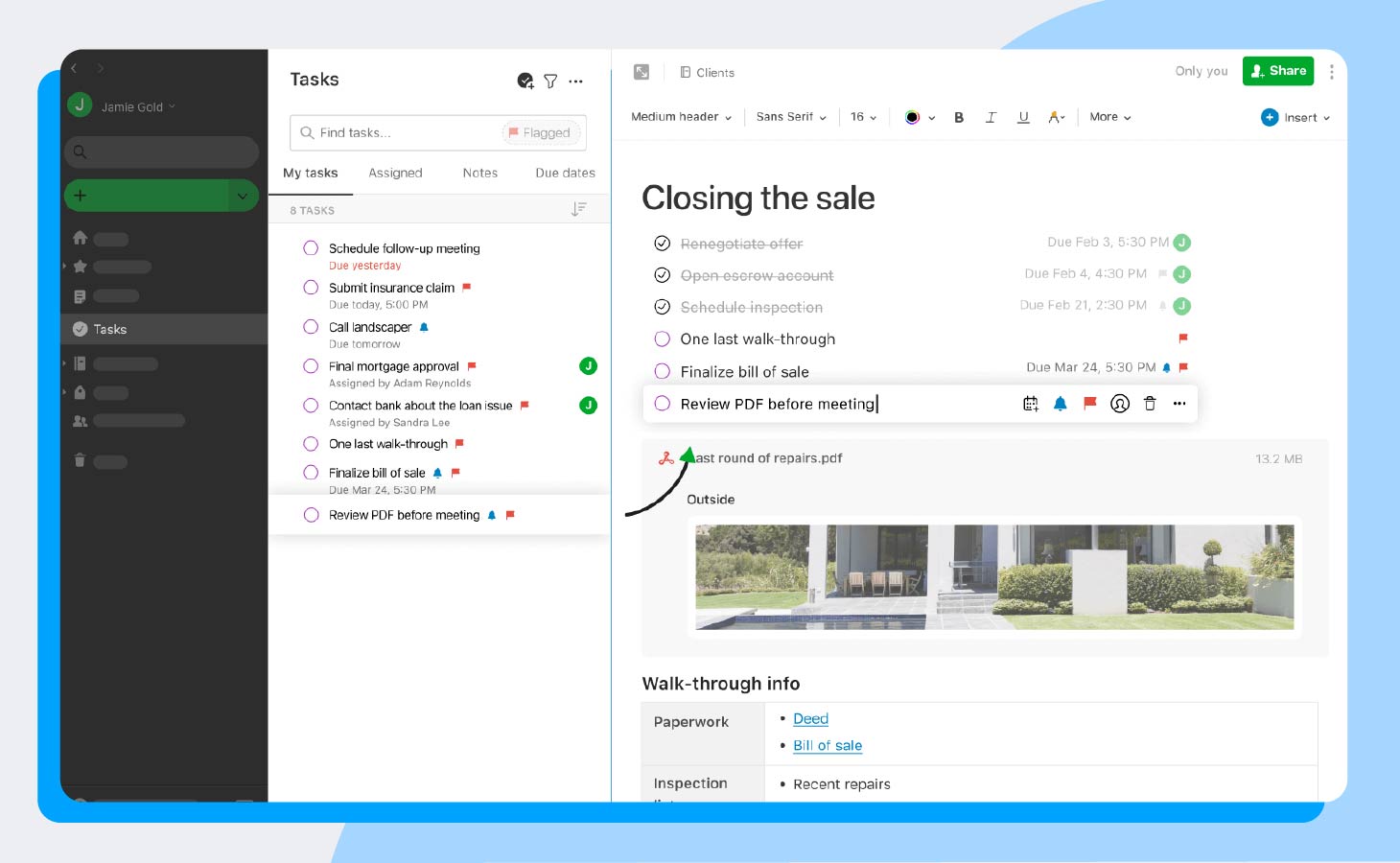 Evernote Teams is a task management and note-taking software. It started as a personal tool but recently added a Teams version with all the note-taking capabilities of Evernote plus shared collaboration spaces.
What makes it a powerful time management tool:
Create a schedule with preformatted meeting note documents

Use the task widget to manage and delegate tasks

Organize all your important company documents

Save helpful webpages, YouTube videos, PDFs, and other files directly in your notes

Integrates with Google Drive, Slack, Salesforce, Microsoft Teams, and more

Collaborate with the rest of your team using Spaces
Pricing:
Starts at $12.50/user/month
9. Todoist Business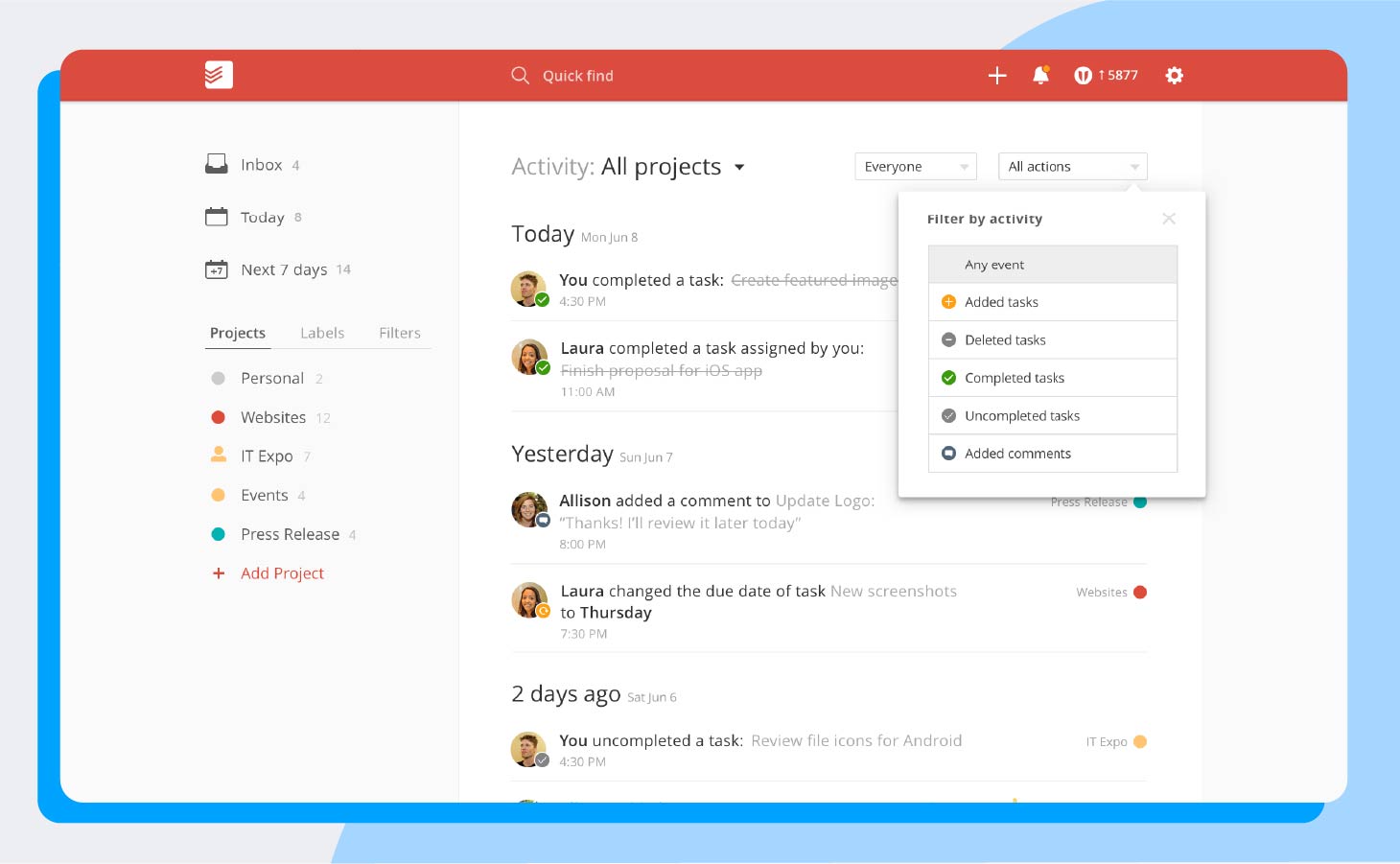 Todoist Business is a to-do list and task management tool for businesses. It syncs in real time regardless of device, so everyone knows what to do and when. 
What makes it a powerful time management tool:
Organize and share files for easy collaboration

Create projects and delegate tasks

Collaborate on projects in one place

See overviews of project and team member activity

Gamify productivity to see trends and identify when your team members are most productive

Turn Gmail or Outlook emails into tasks

Use priority levels, labels, and filters to determine where to focus your attention
Pricing:
Starts at $6/user/month

Free 30-day trial available
10. Scoro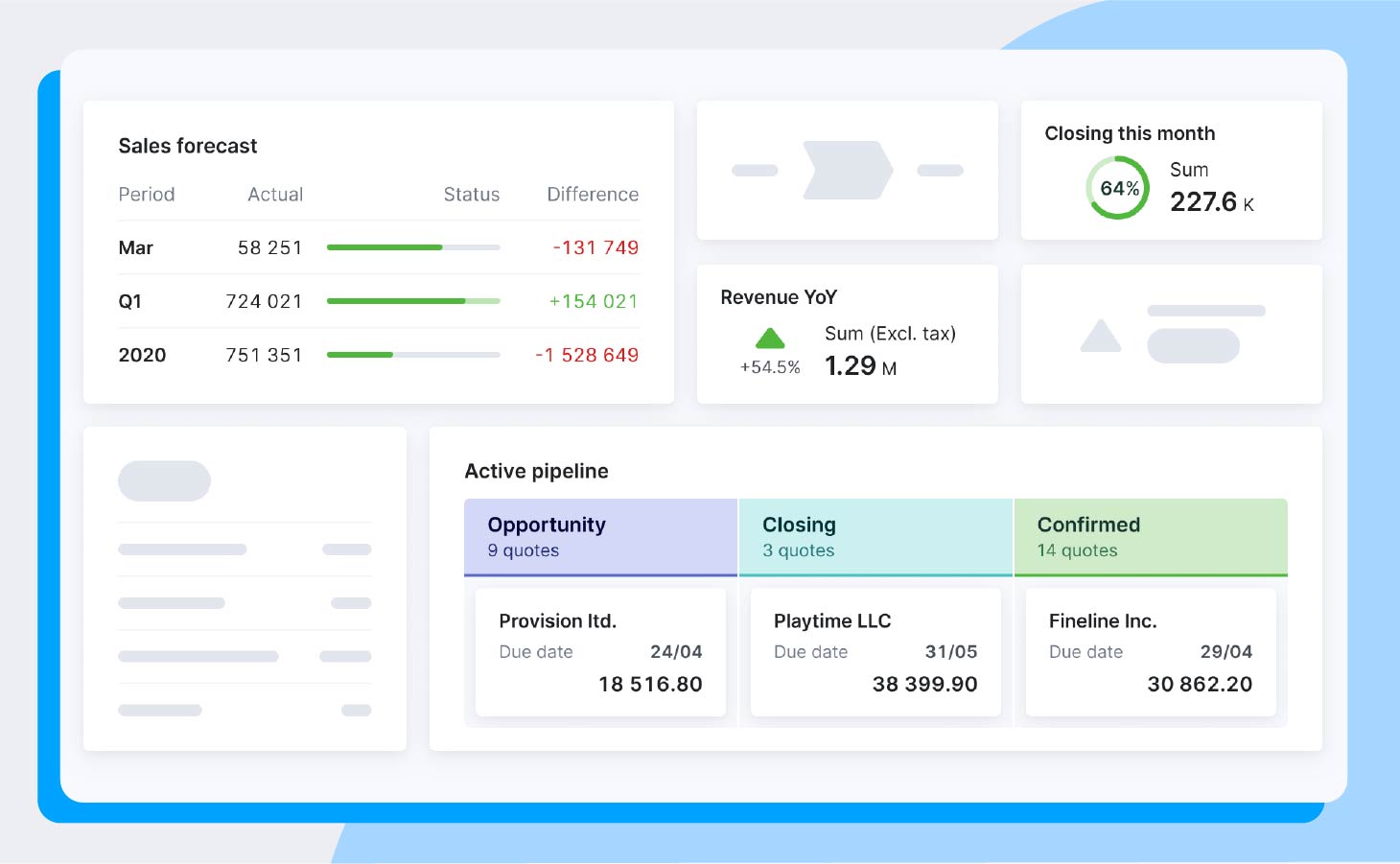 Scoro is a work management software that tracks the value of worked hours. You can schedule tasks, track time, pull reports, and execute billing tasks in one place.
What makes it a powerful time management tool:
Plan and prioritize tasks

Monitor team utilization

Track project progress in real time and see profitability stats

Set automatic notifications

Automate tasks using templates and task bundles

Utilize partial invoicing and prepayment options for clients

Identify bottlenecks in processes that impact performance
Pricing:
Starts at $26/user/month

Free 14-day trial available
11. Trello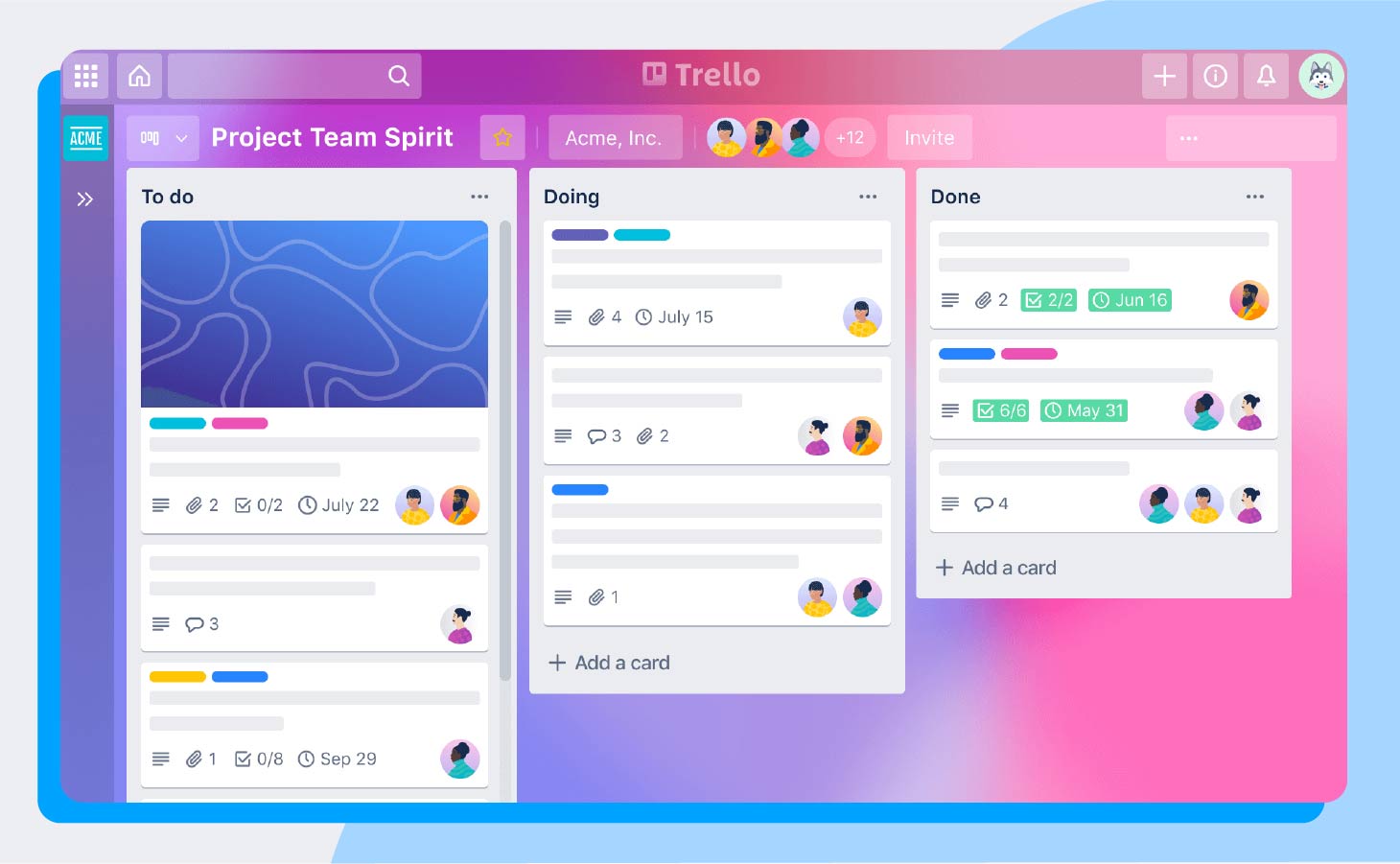 Trello is a project management and collaboration tool similar to a digital bulletin board. Create and share boards for projects and easily delegate tasks with a simple interface so everyone is on the same page.
What makes it a powerful time management tool:
Create a board for each project and add tasks to boards with cards 

Collaborate with others by assigning cards to specific team members

Attach relevant documents, links, images, and more to cards 

Integrates with Slack, Google Drive, Giphy, and more

Connect a board to your calendar and email

Utilize hundreds of free already-created boards
Pricing:
Limited free version

Starts at $5/user/month
12. OneNote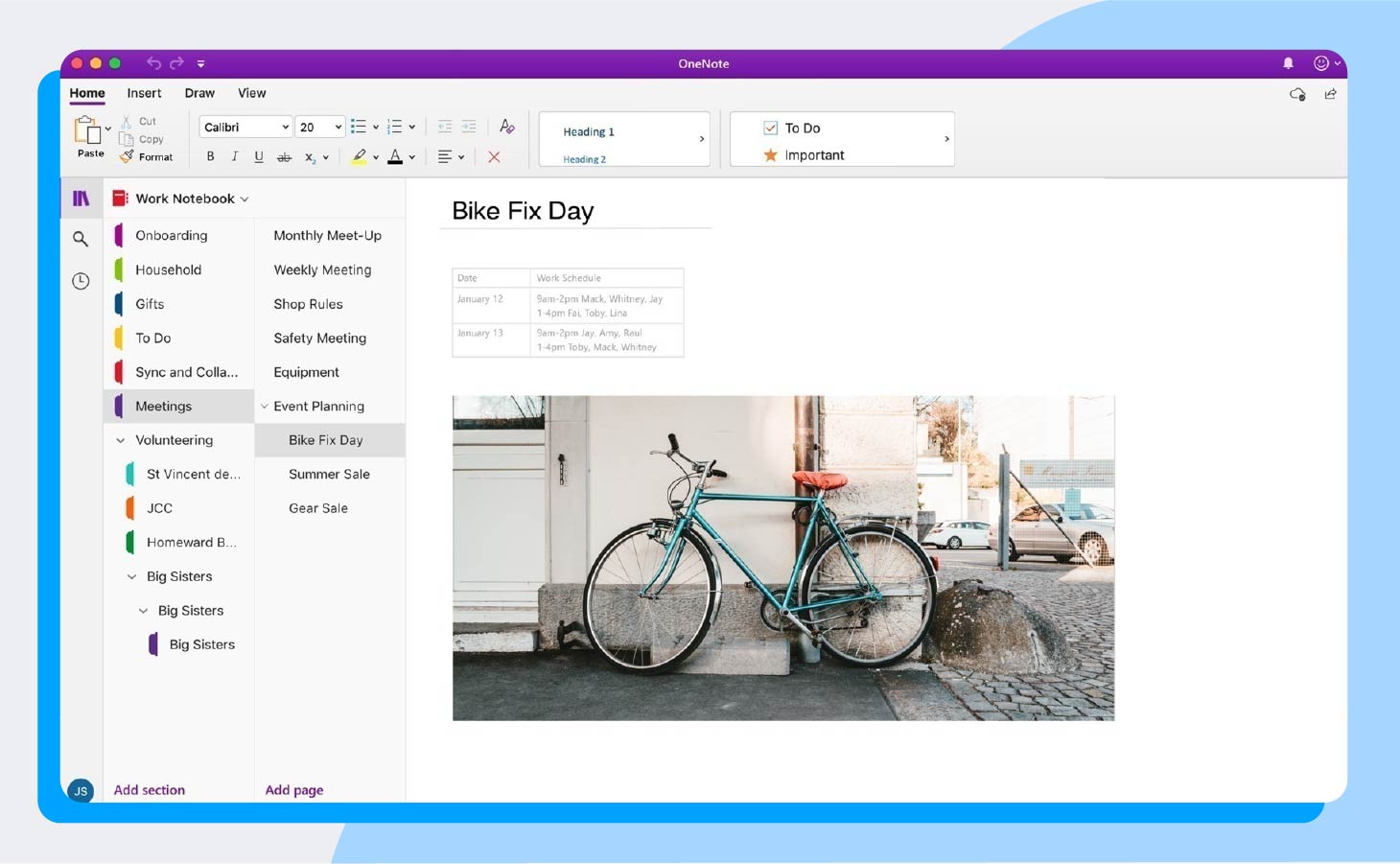 OneNote is Microsoft's digital note-taking app that doubles as a collaboration and project management tool. Create notebooks, then divide them into sections and pages like a real notebook to organize all of your notes.
What makes it a powerful time management tool:
Type your notes or write them by hand with a stylus on your device

Sync across all your devices in real time

Share notes with team members

Create to-do tags

Add audio notes, online videos, files, and more to notes

Track progress on projects as various team members complete tasks
Pricing:
Microsoft 365 plan, which starts at $6/user/month
13. Teamwork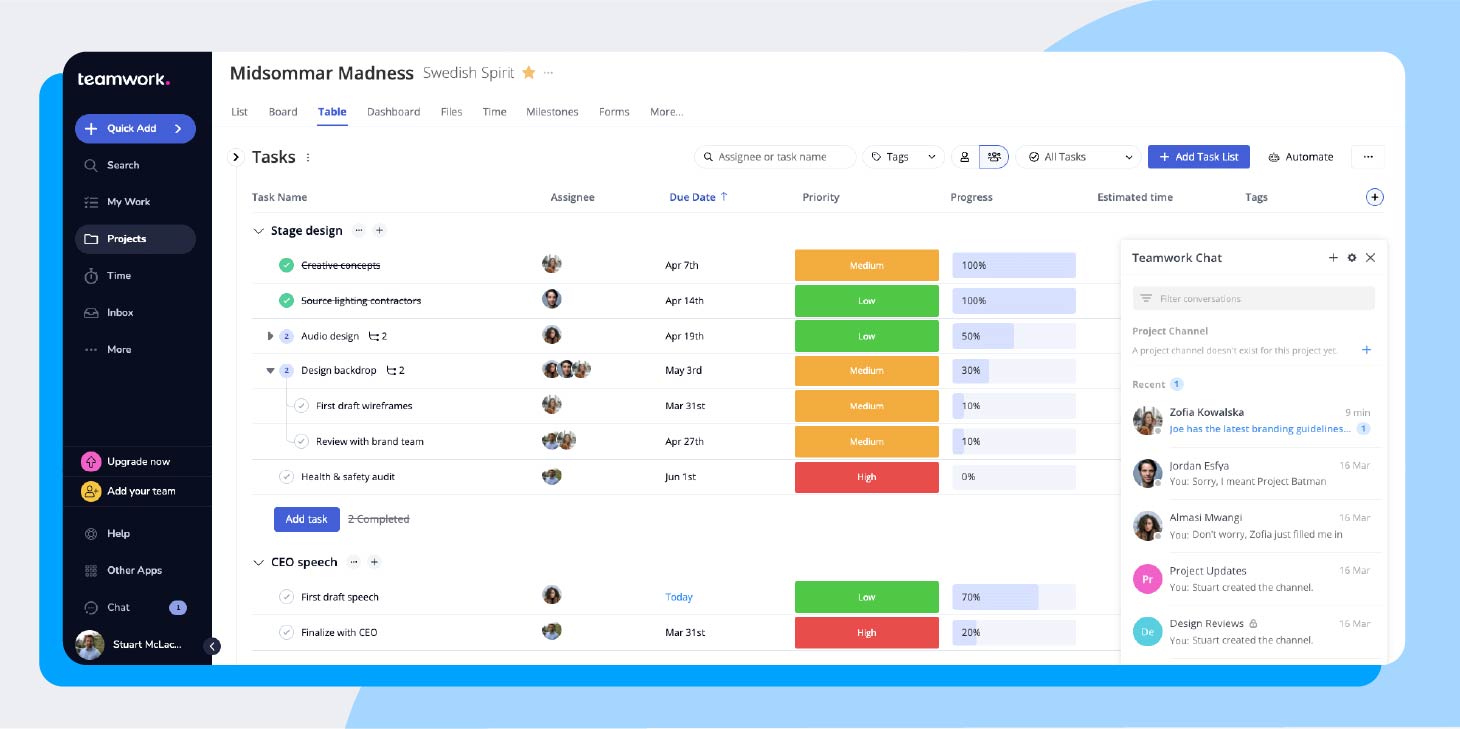 Teamwork is a task and team management software that tackles everything from collaboration to time tracking. Manage your team with resource and workload management tools, track project progress, and easily communicate directly with clients to find cost savings.
What makes it a powerful time management tool:
Plan tasks for yourself and your team

Use the project view to see the perfect amount of information

Track how your team spends its time 

Create timesheets and invoices based on tracked time

Track how time impacts a project's budget in real time

Collaborate within your team and with clients

Automate recurring and administrative tasks

Integrates with popular tools you already use such as QuickBooks and Xero
Pricing:
Free version available

Starts at $5.99/user/month
14. ActiveCollab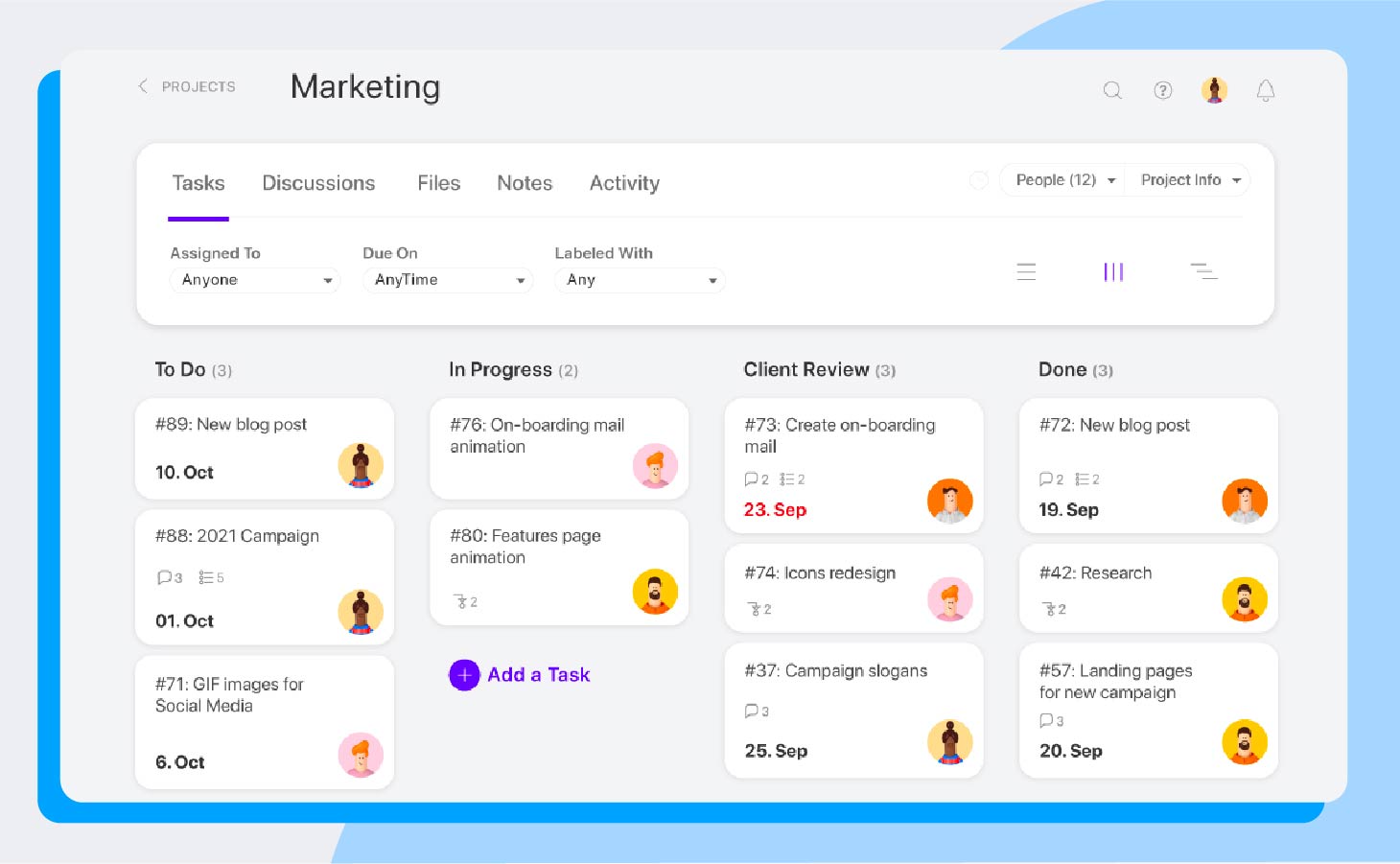 ActiveCollab is a billing and project management software that streamlines the project process from creation to billing. 
What makes it a powerful time management tool:
Estimate time per project, then compare with tracked time

Use three different project views to see the perfect amount of information when you need it

Collaborate with team members

Automate recurring tasks

Connect tasks that are dependent on one another to update deadlines automatically

Track time with a stopwatch or manual entries

Pull time reports by client, project, or employee
Pricing:
Starts at $8/user/month

Free 14-day trial available
15. Notion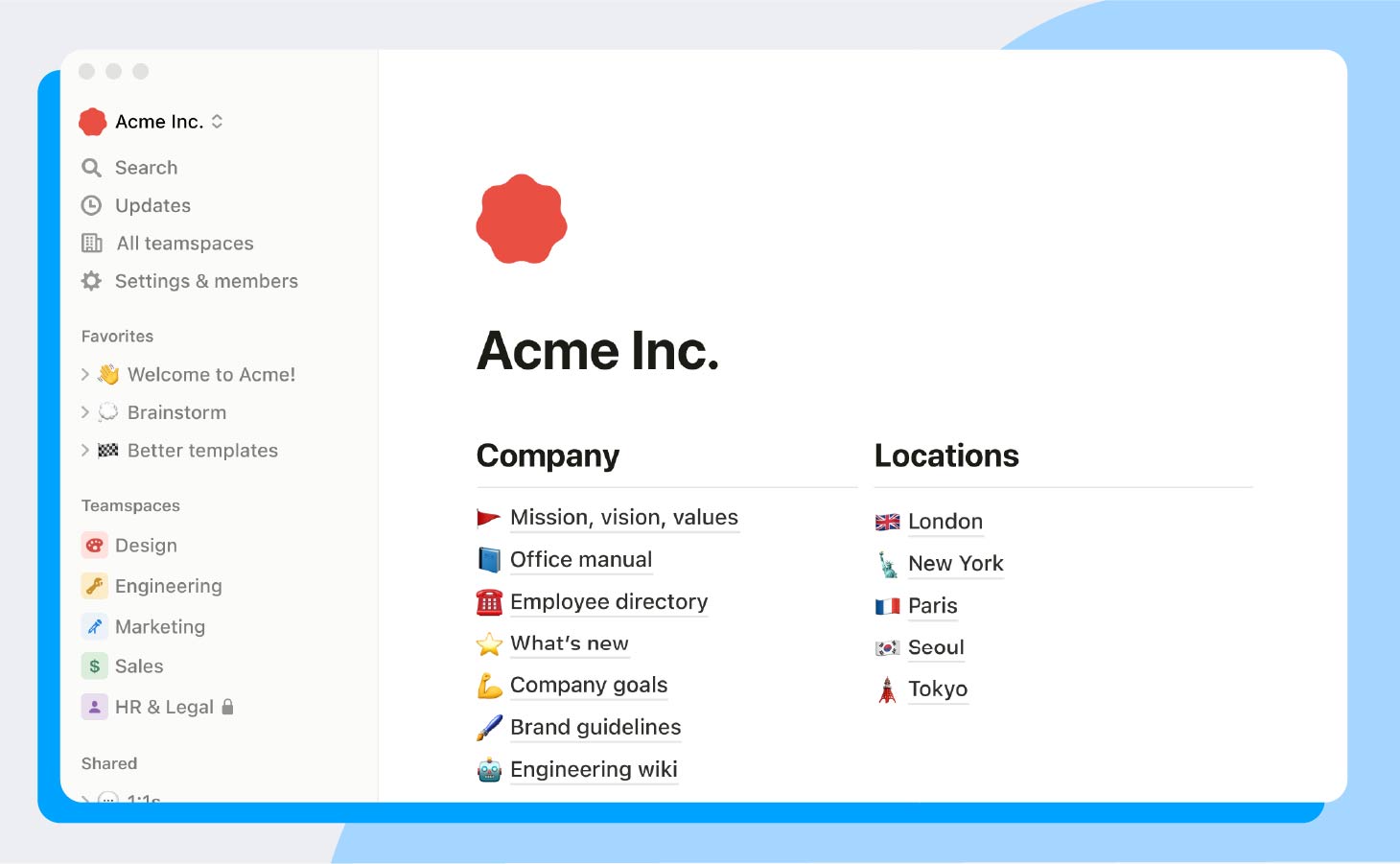 Notion is a productivity and note-taking web application that gives you space to digitally lay out all your ideas in one place. It is fully customizable and helps you manage your tasks, track project progress, and collaborate.
What makes it a powerful time management tool:
Centralize essential company documents in wikis

Create and store documents

Organize and filter tasks and projects however you want

Create and edit pages with drag-and-drop capabilities

Collaborate with team members 
Pricing:
Free option available

Plans start at $8/user/month
16. Asana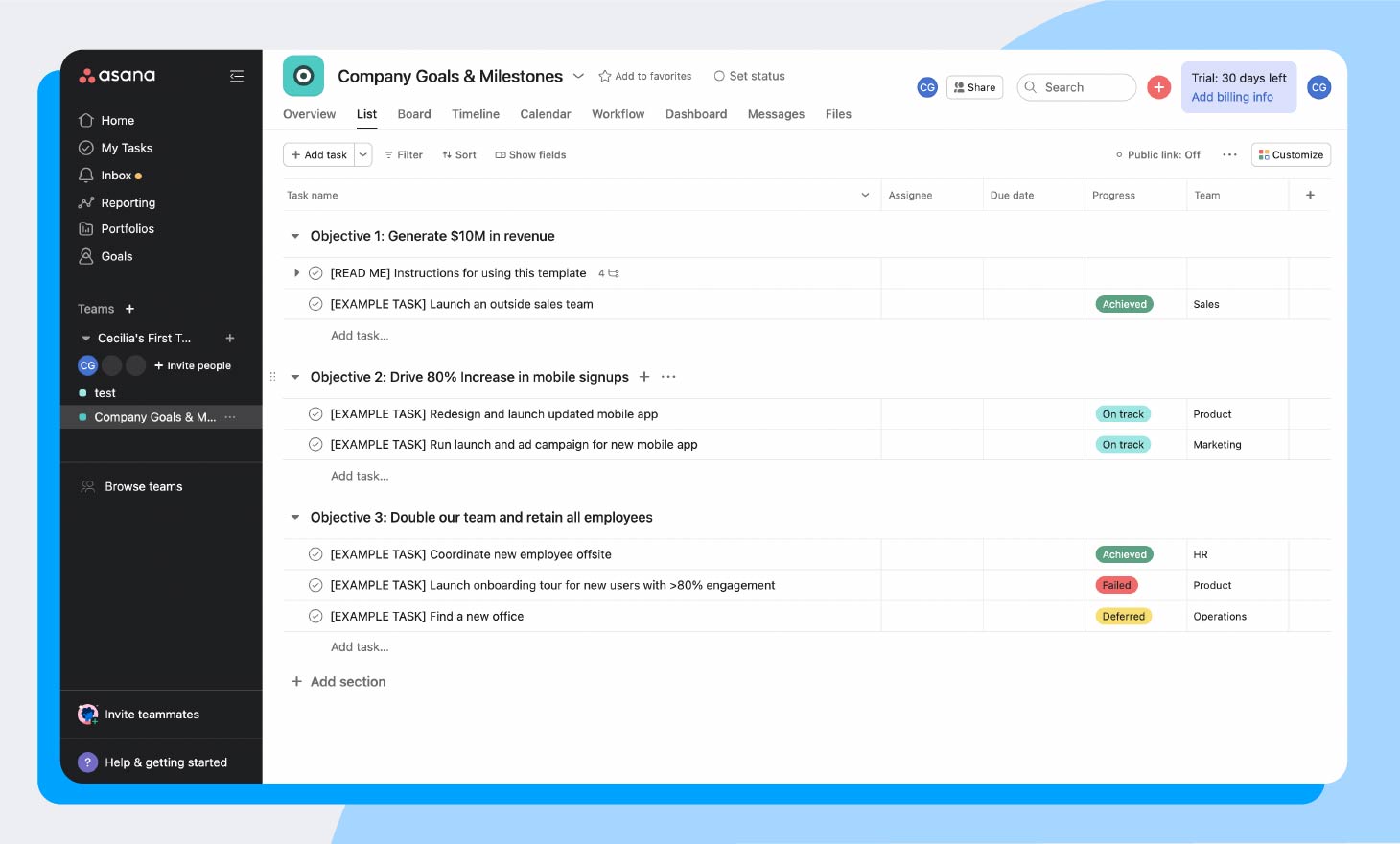 Asana is a work management platform with collaboration tools and file storage so everything is in one place. It also includes time-tracking software and the ability to integrate with other third-party time-tracking apps.
What makes it a powerful time management tool:
Customize easy-to-use project templates 

Utilize the project view (Kanban boards, lists, calendars, etc.) that works best for you

Automate repetitive tasks and processes

Assign tasks to team members and track progress

Chat within the platform to minimize emails
Pricing:
Starts at $10.99/user/month
17. Calendar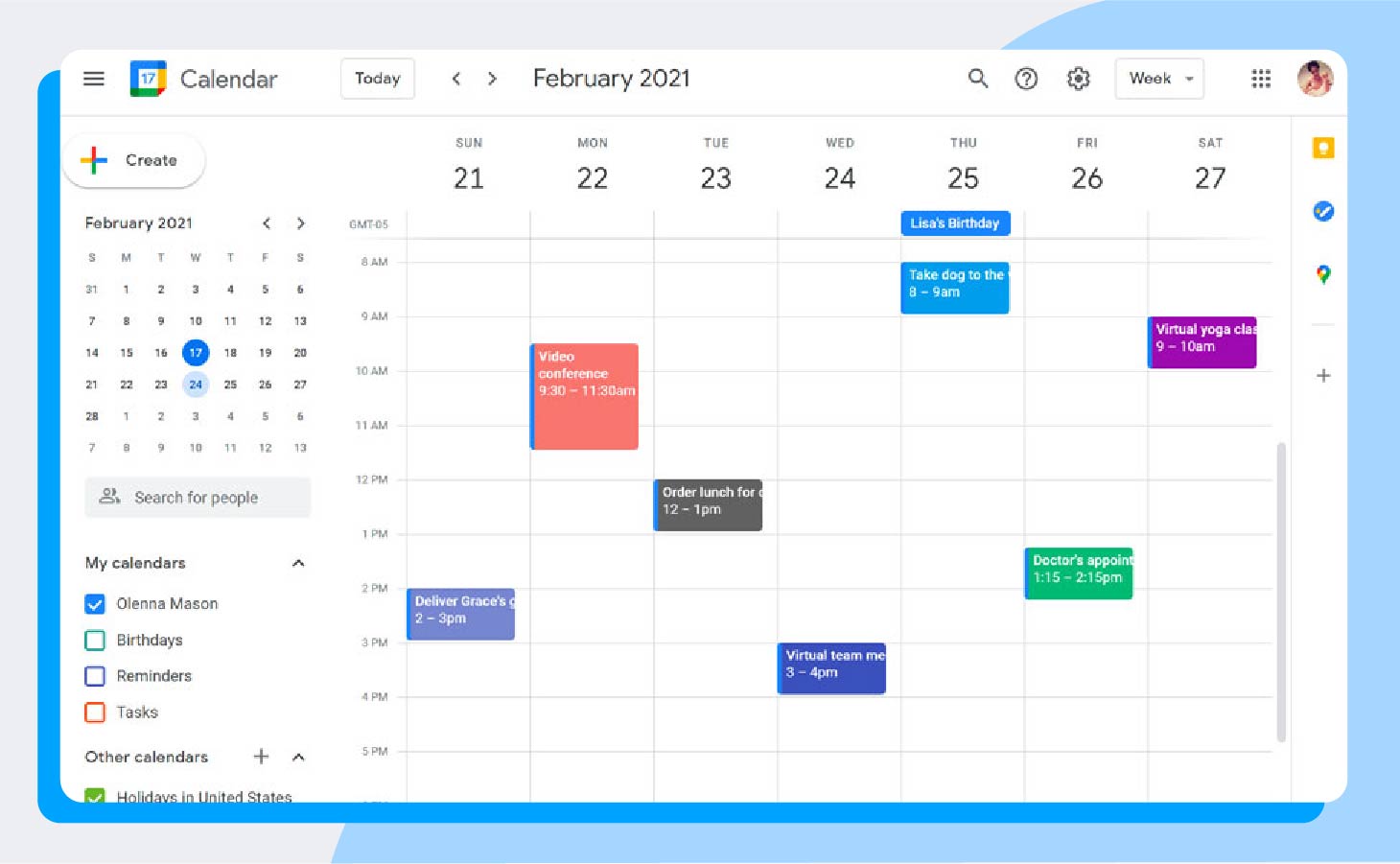 Calendar is Google's powerful calendar application. It integrates with hundreds of other tools, and you can access it across your devices with real-time updates. 
What makes it a powerful time management tool:
Add Google Docs to relevant tasks and events

Add tasks and meetings from your Gmail

Automate meeting reminders

Block off time for focused work

Share calendars with team members 

Create tasks, set a due date, and check them off like a to-do list

Layer shared calendars to schedule meetings easily

Create events directly from emails with a click

Use time insights to see how you spend your time

Use appointment scheduling to share availability with clients
Pricing:
Starts at $6/user/month for Google Workspace
18. Dropbox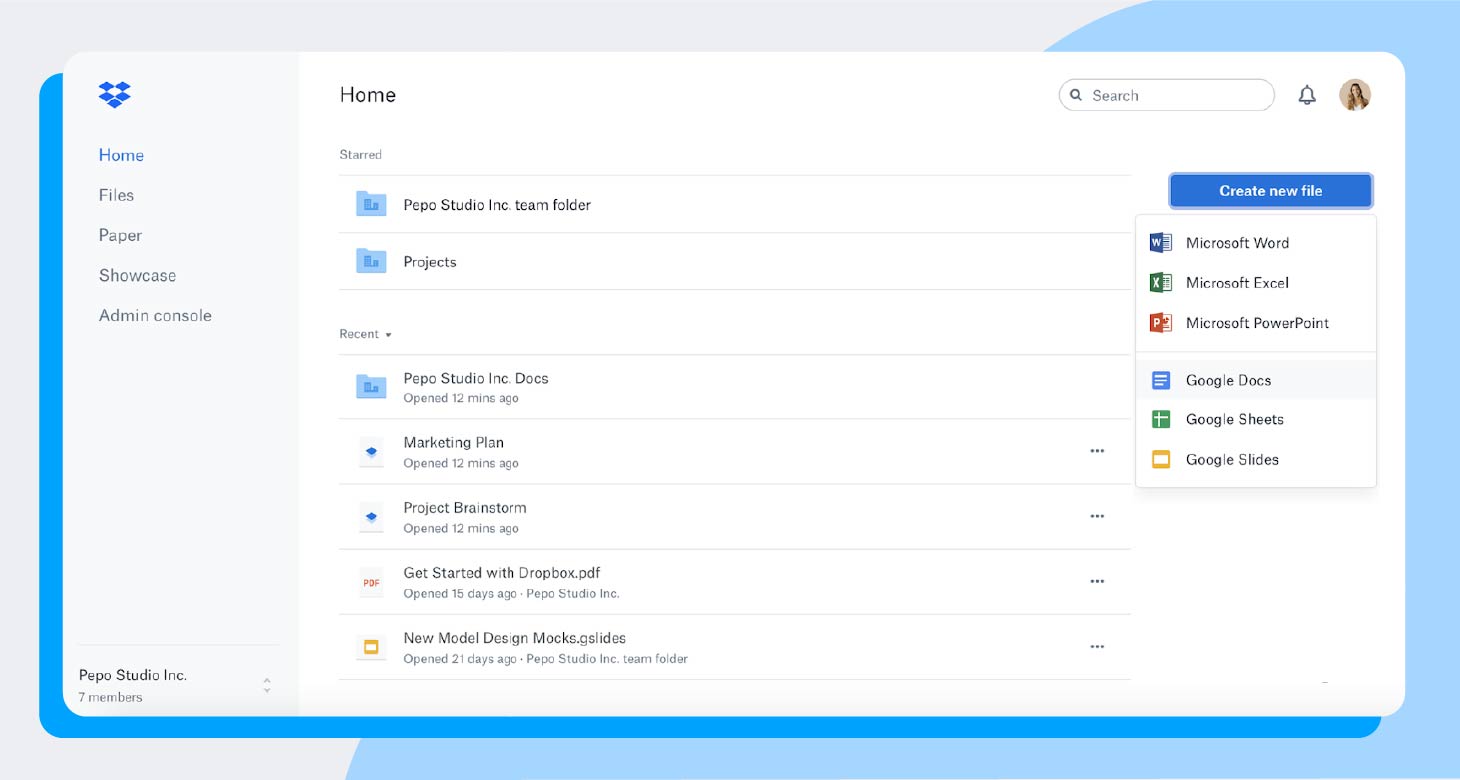 Dropbox is a file-hosting cloud storage service. It offers several additional features you can add on to make your business more efficient, such as automatic uploads of form results and eSignature capabilities.
What makes it a powerful time management tool:
Send large files securely without using email

Request signatures and capture them with eSignatures

Keep all files in a safe place 

Back up files automatically

Access files from anywhere with the app

Recover deleted files within 180 days of the delete date

Create screen recordings and video messages that automatically store in Dropbox

Offers LAN sync, making it faster than other file-sharing programs

Uses the Advanced Encryption Standard's (AES) 256-bit protocol to keep documents secure
Pricing:
Limited free version available

Starts at $15/user/month
19. Forest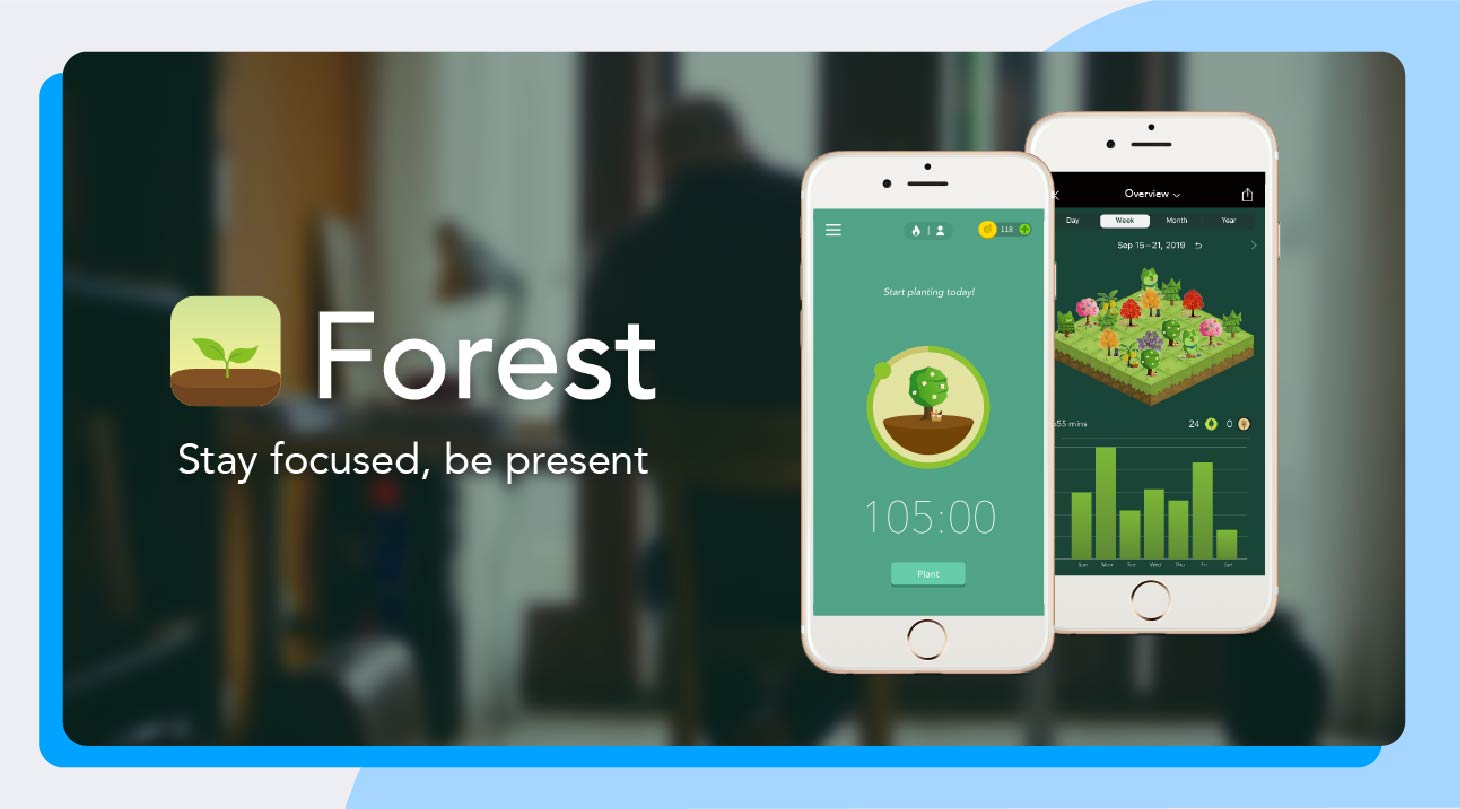 Forest is a productivity app that monitors your phone usage. When you open the app and set a timer, a tree grows on your screen. The tree dies if you exit the app before the timer goes off.
What makes it a powerful time management tool:
Turn your ability to stay off your phone into a game by earning virtual coins

Look at daily or weekly breakdowns to see when you are the most productive

Redeem the virtual coins to Forest, and they'll donate to Trees for the Future to plant real trees (more than 1.5 million trees have been planted so far!)
Pricing:
20. Habitica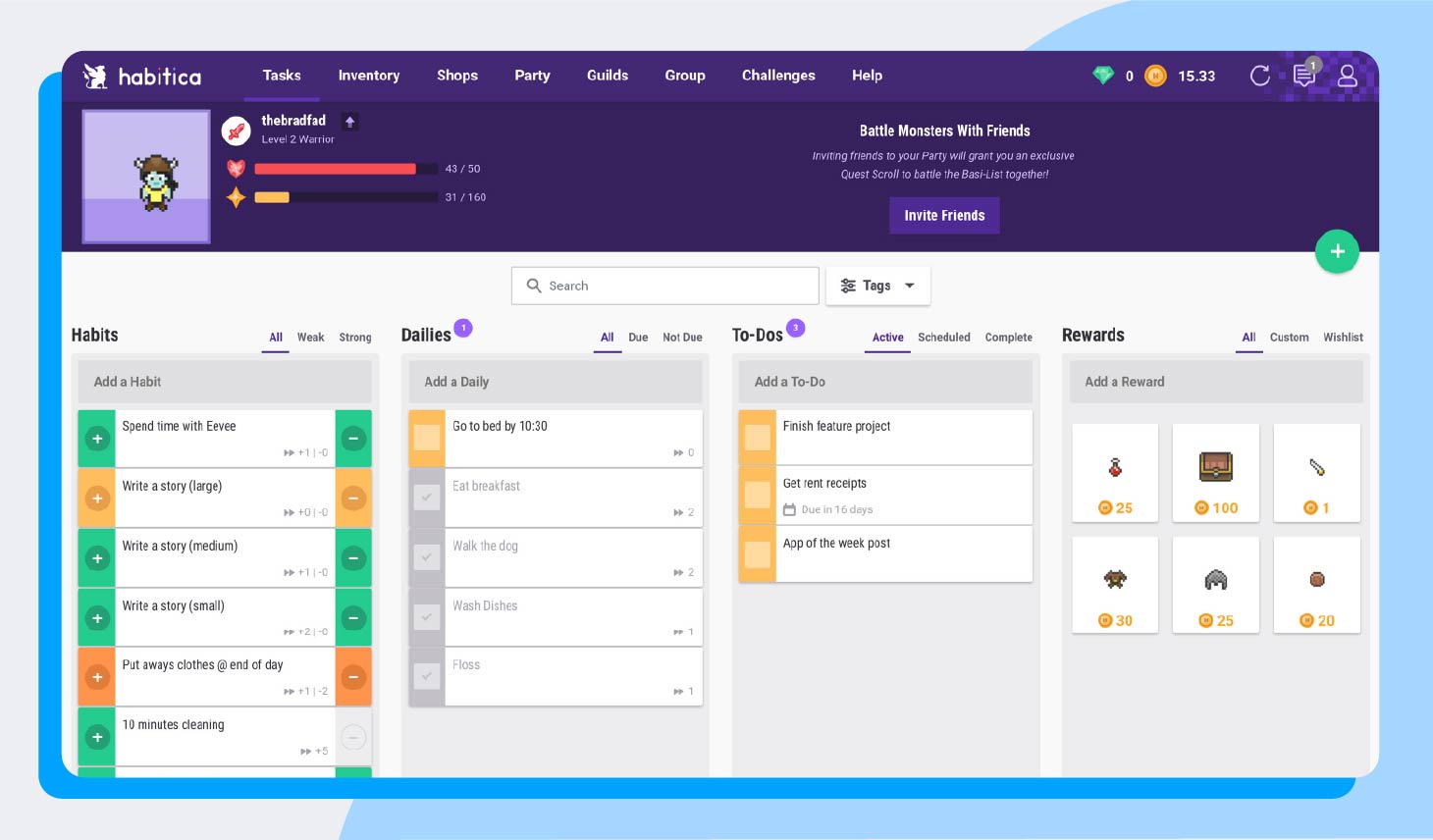 Habitica is a habit and productivity app that gamifies your day-to-day activities. Add your habits, goals, and daily to-do list items to the app. As you complete them in real life, your avatar earns in-game rewards; if you don't, it loses health.
What makes it a powerful time management tool:
Level up your avatar with pets, skills, and quests as you cross tasks off your list

Identify Bad Habits to avoid, which will cause damage to your avatar when you do them

Play on the web or in the app

Partner with other players to form parties to hold each other accountable and compete in Boss Battles
Pricing:
21. Focus@Will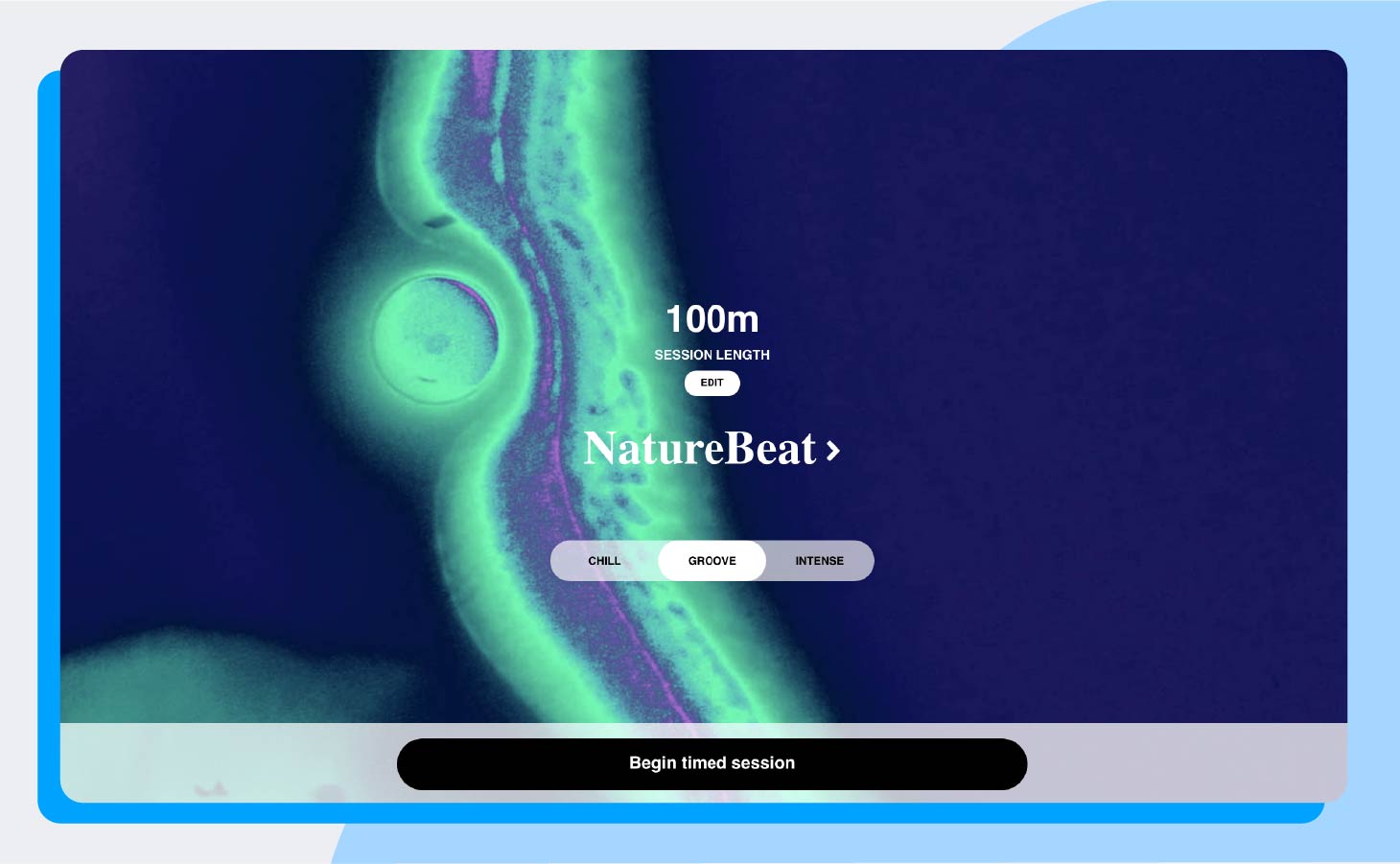 Focus@Will is an app that uses neuroscience to find the perfect focus playlist for you. Take a short quiz designed by neuroscientists, and the results will match you with a specific type of music to get you in the zone faster and stay there so you can be productive. 
What makes it a powerful time management tool:
Listen to music specifically tailored to your brain and personality

Use the productivity tracker and timer to monitor your focus

Explore thousands of hours of music to avoid distractions

Use the iOS or Android app or your desktop
Pricing:
22. Brain.fm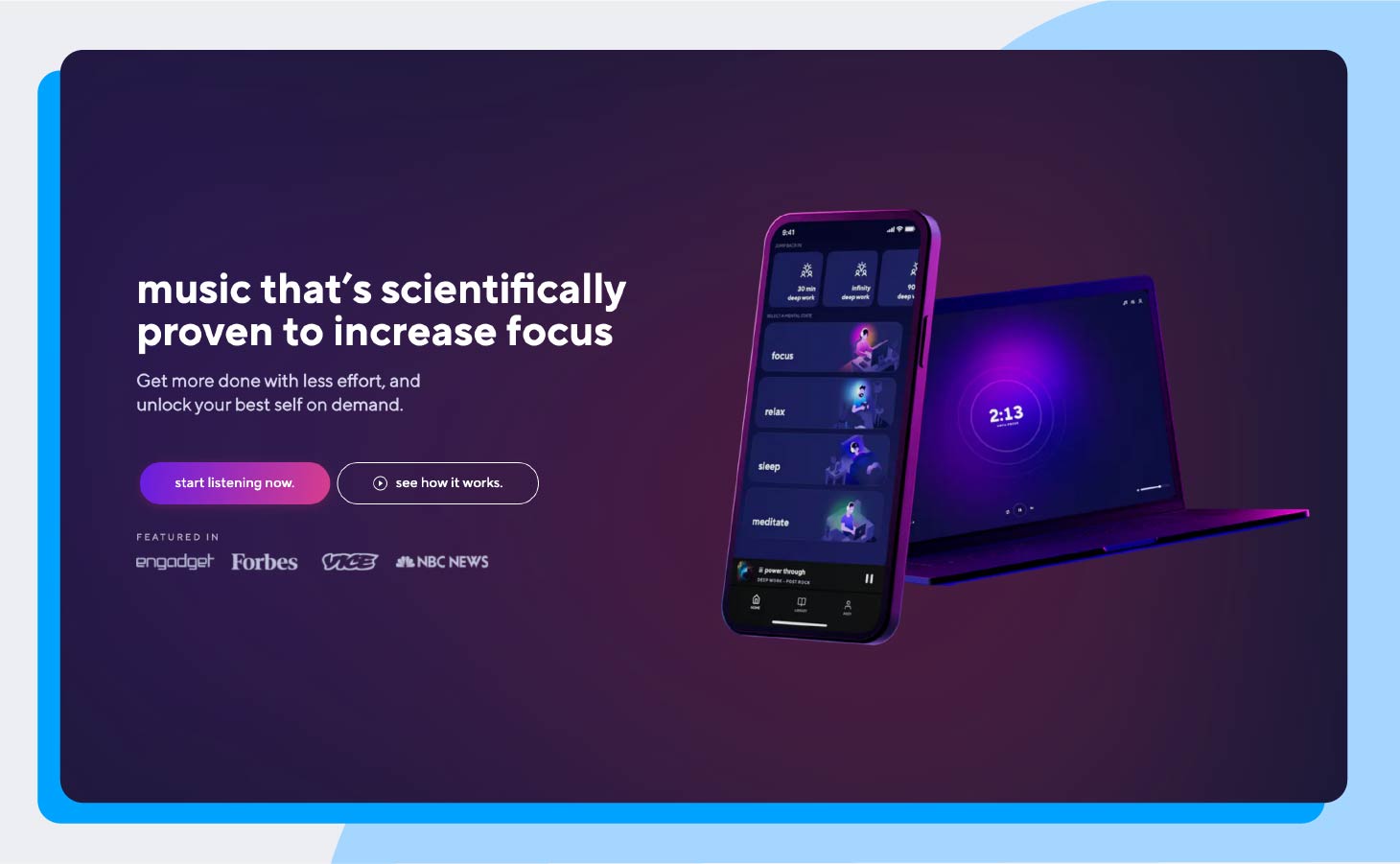 Brain.fm is a productivity music platform that uses neuroscience to create music that helps you focus better for longer. The platform utilizes an understanding of brain waves and sound patterns to move you into neural phase locking, which allows your brain to function at a higher level and stay focused more than regular music. Performance testing, EEGs, fMRIs, and more scientific data supports the patented technology.
What makes it a powerful time management tool:
Uses neuroscience to create music that doesn't distract

Proven to help you focus in just five minutes and keep you focused for as long as you need

Select the type of activity you want to do, the genre you want to listen to, and the level of neural effect you want to achieve

Set preferences to automatically return to the music that works for you whenever you log in
Pricing:
$6.99/month

Free three-day trial available
23. RescueTime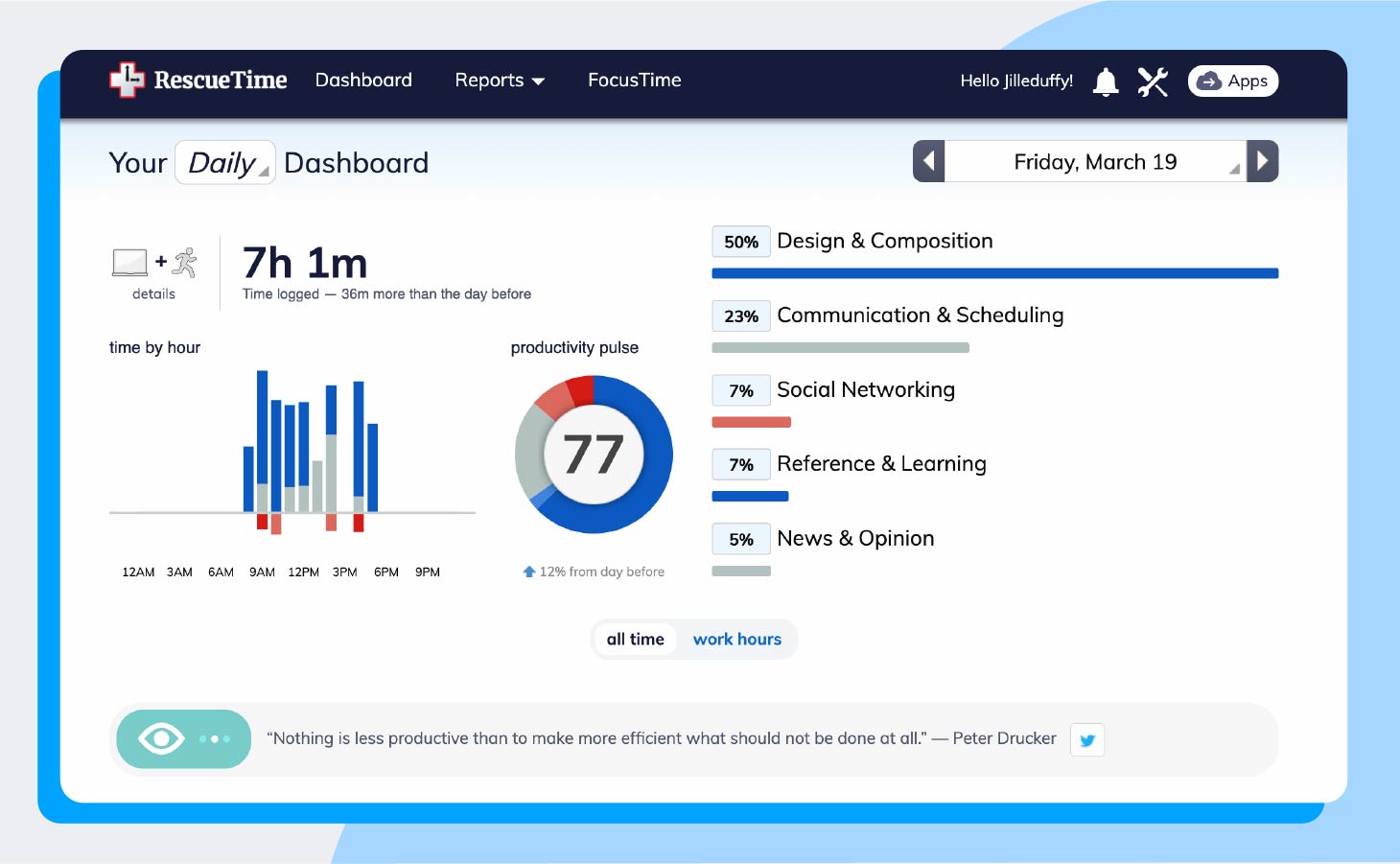 RescueTime is a time-tracking software and productivity coach. Set a daily goal and the productivity coach will help you stay focused. 
What makes it a powerful time management tool:
Lets you know when you have time in your day for tasks that require intense focus

Sends an alert with a tip to refocus when you navigate to certain websites or apps or it looks like you are multitasking

Track trends with daily and weekly focus reports

Use the assistant during a focus session to block distracting websites and track work

Identify where you spend your time with trend data
Pricing:
Limited free version available

Starts at $6.50/month

30-week free trial available
Better manage your time with ZoomShift
Minimize time spent on administrative scheduling tasks with ZoomShift's scheduling software. Sign up for a free trial today and dedicate the time you save to what's most important: running your business, not scheduling employees.
JD enjoys teaching people how to use ZoomShift to save time spent on scheduling. He's curious, likes learning new things everyday and playing the guitar (although it's a work in progress).