JD Spinoza

JD Spinoza

JD enjoys teaching people how to use ZoomShift to save time spent on scheduling. He's curious, likes learning new things everyday and playing the guitar (although it's a work in progress).

Nov 30, 2023
50 HR Statistics to Boost Hiring and Retention in 2024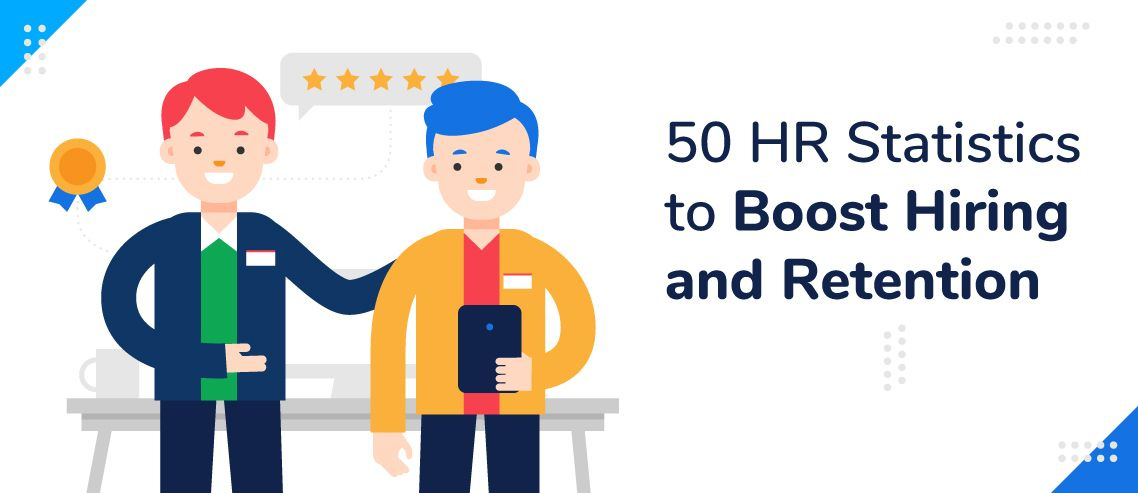 In today's turbulent economic landscape, it's more important than ever to hire top talent, as well as engage and retain experienced employees within your business.
To help you out, here are 50 key HR statistics to boost your hiring and retention in 2024.
Hiring
1. 43% of HR professionals cited "competition from other employers" as the top reason they're struggling to hire the right employees. (SHRM)
2. 60% of applicants quit filling out application forms due to complexity or length. (SHRM)
3.  1 in 2 jobseekers have had a negative experience during a hiring process and 50% of respondents had declined a job offer due to a poor experience. (CareerPlug)
4. 72% of hiring managers claim they provide clear job descriptions, but just 36% of candidates agree. (HR Dive)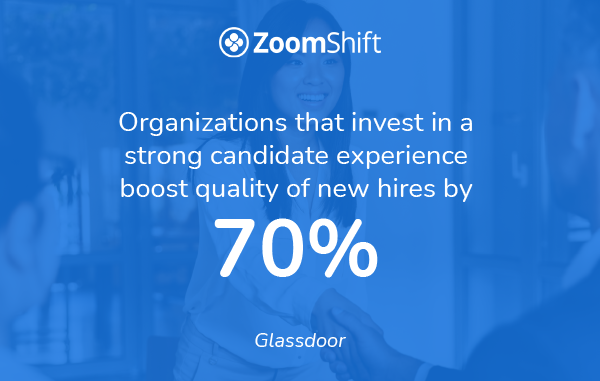 6. Job seekers consider attractive benefits (48%), convenient commute (47%) and relatively high salary (46%) before applying. (Glassdoor)
7. Candidates say clear and regular communication (58%), clear expectations (53%), and feedback regarding rejection (51%) are the most important factors for a positive application experience. (Glassdoor)
8. CareerPlug's analysis of over 10 million applications showed that an applicant who applied from a referral was 85 times more likely to be hired than an applicant from a job board. (CareerPlug)
Diversity and Inclusion
9. Companies in the top quartile for racial and ethnic diversity are 35% more likely to see financial returns above the national medians for their industry. (McKinsey & Company)
10. Inclusive companies have a 2.3X higher cash flow per employee over a three-year period. (Josh Bersin)
11. Just 51% of companies agree that the diversity of their employees accurately reflects the diversity of the market they serve. (HR.com)
12. 78% of respondents to Deloitte's Global Human Capital Trends survey stated that diversity and inclusion gave them a "competitive advantage" over other companies. (Deloitte)
HR Tools
13. 6% of companies said they use AI for recruiting to a "high degree," while 24% responded that they would likely be using AI for recruitment to a high degree within the next two years. (HR.com)
14. 36% of HR professionals cite insufficient technology for their inability to automate and improve the organization of onboarding programs, further inhibiting their ability to train managers in proper onboarding techniques. (Kronos)
15. 57% of companies use a specific performance management technology such as Kissflow HR Cloud or BambooHR. (HR.com)
Onboarding
16. 71% of employees that went through an onboarding process had a clearer understanding of their role and felt equipped for their responsibilities. (TalentLMS)
17. In a survey of employees who quit shortly after being hired, 23% revealed that if they had received clearer direction around their role and duties, their decision might have been different. (BambooHR)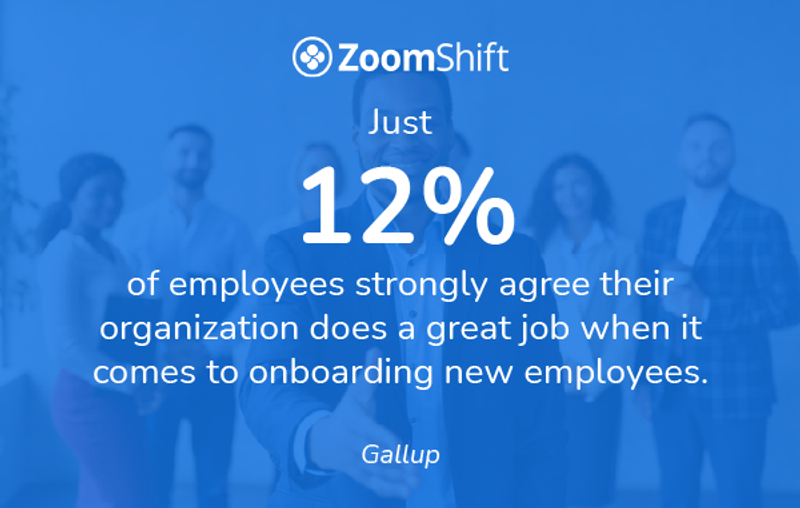 19.61% of new hires do not get any training on company culture. (TalentLMS)
20. 53% of HR professionals believe employee engagement increases when onboarding is improved. (SilkRoad)
21. 72% of new hires desire one-on-one time with their direct manager. (LinkedIn)
Employee Engagement
22. Company culture is important to new hires. Indeed, 32% of workers said they would agree to a 10% reduction in salary if they cared about their job strongly enough. (Jobvite)
23. Treating workers – at all levels – with respect was rated as "very important" to 67% of employees, higher even than compensation, which was rated by 63% of employees as very important. (SHRM)
24. 84% of HR professionals agree that recognizing employees increases engagement, and 82% agree that it boosts employee happiness and staff availability. (SHRM)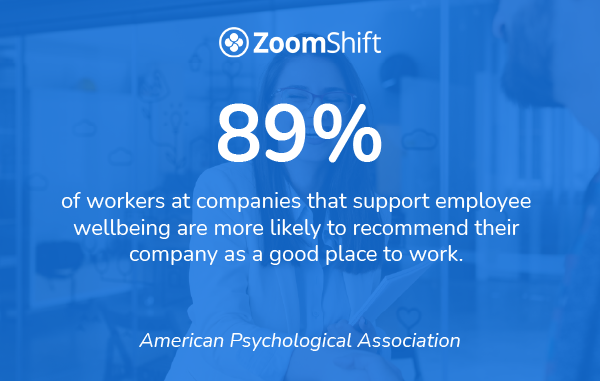 Management
26. Lack of clarity and communication factor heavily into employee burnout. Just 60% of employees have a strong understanding of their boss's expectations, while employees who are confident in their worker-manager relationship are 70% less likely to feel burned out. (Gallup)
27. 83% of employees would prefer to be recognized with praise over a present. (OfficeVibe)
28. 4 out of 10 employees say their managers fail to frequently engage in honest conversations about work. (SHRM)
29. One in five US employees is uncomfortable when it comes to engaging in conversation with their manager. (SHRM)
30. 36% believe their manager doesn't know how to lead a team. (SHRM)
31. One in four employees dread going to work, don't feel safe voicing their opinions about work-related issues, and don't feel respected and valued at work. (SHRM)
32. 58% of those who left a job due to culture claim people managers are the main reason they ultimately quit. (SHRM)
Retention
33. Almost 30% of new hires resign in the first three months of employment. (Jobvite) Check out these employee retention strategies to help combat this.
34. The top reasons given by employees for leaving their jobs include lack of career development (22%), lack of support with work-life balance (12%), their manager's behavior (11%), unsatisfactory compensation and benefits (9 %), and poor well-being (9%). (Work Institute)
35. 49% of employees who intend to leave their full-time job in the next 5 years would remain longer with their employer if they received a higher salary, while 29% would stay for more or better benefits. (MetLife)
37. The top three contributors to employee burnout are unfair compensation (41%), unreasonable workload (32%), and too much overtime or after-hours work (32%). (Kronos)
38. 92% of employees say showing empathy is an important way to advance employee retention. (Businessolver)
39. 51% of employees say they would change jobs for one that offers flexible working. (Gallup)
40. Businesses have incurred $223 billion in costs due to turnover linked to workplace culture over the past five years. (SHRM)
Performance Management and Training
41. 89% of HR professionals agree that conducting performance management on an ongoing basis is more effective than yearly or twice-yearly reviews. (HR.com)
42. More than three-quarters of employees want to learn new skills, but two-in-five claim they lack the time to take advantage of reskilling. (Mercer)
43. Just 34% of HR leaders are investing in workforce learning and reskilling as part of their future of work strategy. (Mercer)
44. 40% of HR leaders are not aware of the skills their workforce possesses. (Mercer)
45. 45% of Millennials say a job that accelerates their professional or career development is "very important" to them. This compares to 31% of Gen Xers and 18% of Baby Boomers who said the same thing. (Gallup)
Holiday and Sickness
46. 56% of employees report that additional paid time off would make them more loyal to an organization. (Fierce, Inc)
47. 39% of employees want to be seen as a "work martyr" to their boss, yet these over-workers are less likely to receive a promotion or raise than their peers. (US Travel Org)
48. Americans left 662 million unused vacation days, forfeiting a huge $66 billion in benefits. (US Travel Org)
Future
49. 77% of executives see contingent working playing a far greater role in the future. (Mercer)
50. 34% of employees expect their jobs to disappear over the course of the next three years. (Mercer)
Looking to boost the efficiency of your workforce, or move to a flexible working model? Get in touch with the team at ZoomShift to see how we can help you hit your HR goals.

JD enjoys teaching people how to use ZoomShift to save time spent on scheduling. He's curious, likes learning new things everyday and playing the guitar (although it's a work in progress).